Biodiesel Benefits for Cattle Producers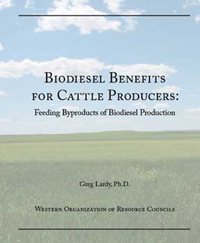 Biodiesel Benefits for Cattle Producers: Feeding Byproducts of Biodiesel Production reviewed data on the nutritional value of biodiesel byproducts as feedstuffs for cattle on ranches in the Northern Great Plains.
The study analyzed the compatibility of incorporating oilseed meals generated as a byproduct of small scale biodiesel extrusion processors into the nutritional strategy of a 300 cow ranch.
It found use of oilseed meal byproducts in beef cattle operations would be relatively easy. Potential oilseed crops in the region for biodiesel production include soybeans, sunflowers, safflower, mustard, camelina, and canola. Camelina, sunflower, and canola have the greatest oil content.
Sustainable biodiesel production goes hand in hand with cattle ranching, a radio commentary by rancher Jeanne Charter.
Resources