Law and Order in the Oil and Gas Fields - 2009 Update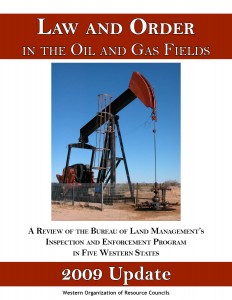 2009 Update to Law and Order in the Oil and Gas Fields
Executive summary to Law and Order in the Oil and Gas Fields
WORC's Press Release
Statements from WORC's press conference
Bob LeResche, PhD, is Board Chair of Powder River Basin Resource Council and is semi-retired after a long, successful career in natural resource management in Alaska. Although still consulting in his areas of expertise, Bob assists his wife, Carol, in raising heirloom vegetables on the family farm near Sheridan, Wyoming, which is threatened by coalbed methane development.
Peggy Utesch is a writer, graphic designer and community activist who, after losing her health for a time due to chemical exposure from natural gas drilling, is passionate about engaging the natural gas industry to improve its practices. A member of the Western Colorado Congress, Peggy lives in Fruita, Colorado.
Donald Nelson farms and ranches near Keene, North Dakota. He is a member of the Dakota Resource Council. His family has dealt with the benefits and pitfalls of living between two oil and gas fields for over 50 years.
Jeanie Alderson and her husband, Terry Punt, ranch in the Tongue River valley near Birney, Montana. She serves on the Board of the Northern Plains Resource Council, and her ranch is slated for coalbed methane development.
Mike Eisenfeld is the Staff Organizer on New Mexico energy issues for the San Juan Citizens Alliance, with offices in Farmington, New Mexico, and Durango and Cortez, Colorado.
Additional Resources
Government Accountability Office's 2005 report, Oil And Gas Development: Increased Permitting Activity Has Lessened BLM's Ability to Meet Its Environmental Protection Responsibilities

Surface Compliance of Coal Bed Natural Gas (CBNG) Development in North Central Wyoming

BLM's Onshore Order Number One

BLM's Gold Book
Law and Order in the Oil & Gas Fields
WORC's 2005 report focuses on safeguarding our air, water, land, and quality of life by strengthening oil and gas inspection and enforcement programs. Watch for our updated version of the report, early 2009.
Read WORC's News Release
Download summary of Law and Order Report
Download Law and Order Report
News Conference Statements
Speaker bios