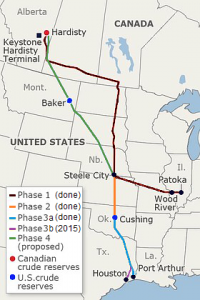 Following President Donald Trump's executive action that green-lighted the permitting of the Keystone XL pipeline, WORC groups along the pipeline route, Northern Plains Resource Council and Dakota Rural Action, acted swiftly to resist the pipeline. The pipeline would link Canadian tar sands oil to U.S. refineries.
Action in South Dakota
In early March, Dakota Rural Action went to court to challenge the South Dakota Public Utilities Commission's 2016 decision to re-certify the South Dakota Keystone XL permit. Seventy-five members rallied to protest the pipeline prior to the hearing in Pierre, South Dakota. DRA is waiting for a ruling on the case. Failure to re-certify the permit would be a big blow to Keystone XL, so a lot hinges on the ruling. DRA is meeting with landowners and tribal members along the route to gauge interest and determine their next steps following the court ruling.
Action in Montana
In late March, Northern Plains sued President Trump to nullify the presidential permit for Keystone XL. Northern Plains contends the 2014 Environmental Impact Statement for the pipeline is no longer relevant because the study fails to take into account the dangers of the pipeline spills, such as the spills in 2011 and 2015 along the Yellowstone River.
Northern Plains is working with members and leaders from the Fort Peck Tribe regarding the potential dangers of the pipeline. The pipeline would cross 40 miles downstream of Fort Peck's water intake, a situation similar to what spurred the opposition by the Standing Rock Sioux Tribe to the Dakota Access Pipeline in 2015-16. In April, Fort Peck members walked  across the Fort Peck Reservation to raise awareness about the possible impacts of the tar sands oil pipeline.
Keystone XL Pipeline Documentary Series
A Guardian documentary series detailing public sentiment along the pipeline route features members of DRA and Northern Plains. The series is available at https://www.theguardian.com/environment/keystone-xl-pipeline.
What's next
The fight over the Keystone XL pipeline is likely to heat up this summer as courts will determine if there is a legal route in South Dakota and the validity of the presidential permit signed by Trump.