"Keep asking yourselves these questions:
How am I building bridges?
How am I diversifying my network?
How can I be more inclusive?
How am I organizing myself out of my job?"
With these words, keynote speaker Shasti Conrad challenged attendees at the Western Colorado Congress Annual Conference to dream big and bring their best selves to their activist work. Whether she knew it or not, she was also echoing some of the themes in the assessment work WCC has been undertaking for a large part of this year.
Shasti is a dynamic changemaker who has demonstrated a talent for political activism for over 10 years. She is the US Campaign Manager for the 100 Campaign, which aims to be the largest youth mobilization in history to end child labor.
Shasti inspired the WCC crowd on August 26 in Grand Junction with her own story. She learned the ropes of community organizing through two different US presidential campaigns – one of which landed her a job on President Obama's White House staff.
"Not bad for an orphan from Calcutta, or a brown girl from Oregon," she quipped.
But Shasti was quick to turn the spotlight from the national back to the local.
"Today, more than at perhaps any time in our history, the actual work of governing and improving our communities is not led by Washington, DC. This is not a dream. This is not a drill. This is the current state of our affairs," she asserted. "All the more reason it is essential today that you are here."
YOU ARE HERE: Creating a Road Map When the Political Landscape Won't Hold Still was the theme for this year's conference.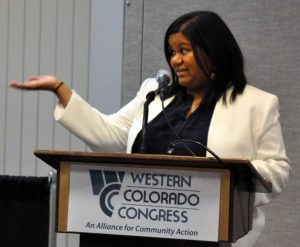 Politics: Local and personal
The following are more excerpts from Shasti's remarks.
"All politics are local. And politics are personal. Lead with empathy. There is much work to do and we must work together, focusing on our common humanity. We are more alike than we are different.
"After the election, many new groups have formed, like Indivisible, Run for Something, She Should Run, and The Arena. They have realized their success is dependent on asking for ground up action because that is where the ideas and innovation are happening. An organization like WCC knows your community better than anyone else, and you have the ability to experiment, to try to new things and to figure out what will work for your people.
"There are times when I fear that all of these new groups springing up aren't bringing us together, but splintering us further apart. We must go back to basics and focus on people, let go of the rhetoric and buzzwords, and uplift each other instead. I am a big believer that if you focus on getting people in the same room and focusing on issues/objectives, we can empower each other to bring action that includes our whole community.
"This is another lesson the national level is re-learning…we stopped talking to people from other perspectives on both sides and forgot what our communities actually look like. We have to get out of the echo chamber and remember each other's humanity.
"So what does this mean for us? We must understand and accept today's national landscape and quirky realities. We must work within them. We cannot let our frustration with the dysfunction of Washington keep us from the important work locally.
"We must chart our own course here. We must diligently focus on our local missions. We must be firm in our point of view, but also be respectful of others. We must reject the toxic noise of Washington, DC today, and instead be humble, honest, and civil. Your work here today is more important and consequential than ever before.
"Final point: Today, YOU ARE HERE. Who will be here tomorrow? As we focus on our work today, we must prioritize efforts to engage with young people from all walks of life. We must mentor and guide them, and prepare them to stand tall in our shoes.
"And let's all be sure to engage young people who may not always look or sound just like us. Just as my mother, a white woman from the Pacific Northwest, chose an Indian orphan as a daughter and readied her to work 100 feet from the Oval Office as an adult – be sure to engage and empower a diverse and inclusive group of young people to take our place.
"And understand that there will be times when millennials, immigrants, or people of color do things, and it may not look the exact same way that you did it 'back then' or that you do it now, but that's ok. There's a lot to learn on everyone's parts. Be open to a new way of doing things.
"We're in a time of upheaval, but if we stick with it, we may get to the other side stronger than we've been, more connected to our neighbors, and more reflective of our diverse communities."
– Brenda Bafus-Williams, Communications Coordinator
Reprinted from the Clarion, Fall 2017
SIGN UP FOR WORC BLOGS
WORC will send you a notice of new blog posts. You can sign up here.