Take Action Today to Defend Clean Energy and Build a More Resilient, Just Future for All!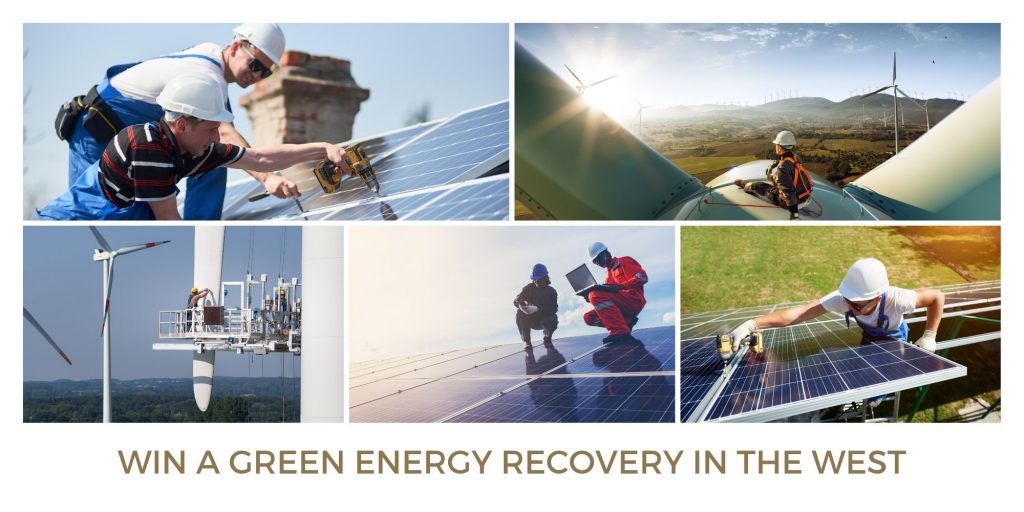 Transitioning to clean energy is one of the most promising cornerstones of an economic recovery that benefits all people and our planet. Clean energy industries (solar, wind, geothermal, energy efficiency, and storage) employ more people than fossil fuel industries and, with the right support, are poised to create even more jobs that can be done in a world of social distancing.
But a massive expansion of renewable energy—one that is accessible and affordable for all—isn't guaranteed. The COVID-19 crisis has hit the clean energy industry hard and our federal government is pulling out all the stops to hobble the industry further. Now is the time to publicly speak out and pressure decision-makers to support the clean energy revolution.
The Western Organization of Resource Councils is helping you get involved and amplify your voice to national decision-makers. Sign up for one (or all!) of the actions below to get started.
---
Tell Congress to Support a Clean Energy Economic Recovery!
Send a personal letter to your congressional representatives asking them to prioritize clean energy initiatives in upcoming COVID-19 economic relief legislation. WORC's system makes it easy, providing you with a sample letter and delivering the letters directly to your delegates.
NOTE: When you receive your email confirmation, it may appear as though your message was only sent to one member of your Congressional delegation. Rest assured that your message has been sent out to all members of your state delegation.
---
Submit a Letter to the Editor
Elected representatives at the federal and state level pay very close attention to letters submitted to the editor of their local newspapers. Sending a letter to the editor (or LTE) is a great way to show genuine grassroots support for a green energy economic recovery. Sign up below and WORC will email you sample language and a step-by-step guide for submitting your LTE.
---
Share this Action Page!
Get others involved! We all like clean energy (in fact, recent polling by the Pew Research Center shows that 92% of Americans support expanding solar energy and 85% support expanding wind power) but it's hard to know how to voice that support. Now that you've taken action, email this action page with your friends, family, and literate pets or share on social media using the hashtag #GreenEnergyFuture.
---
Never miss an opportunity to make the west even better: receive our action alerts.