Three new Homegrown Stories highlight the challenges and rewards of trying to keep the family farm in the family.
Not so long ago, family farms were the bedrock of America. Since the 1980s Farm Crisis, family farms and ranches have been gobbled up by corporate agribusiness. Now, fewer than half of American farms and ranches are small, family-run operations.
There is a small, but growing push from consumers for fresh, local food–the kind of food that factory farms aren't designed to deliver. Some small farms and ranches are bucking the establishment to fill that niche. They often sell their products at farmers' markets and directly to consumers. If they're lucky, there's a CSA (Community Supported Agriculture) project or food hub to streamline the process of getting their food to customers. Even for farmers and ranchers working within the standard commodities markets, remaining independent can be a hard (and often lonely) road to travel.
Here are three Homegrown Stories about the struggles and rewards of running multi-generational farms and ranches. For them, keeping their farms independent and in the family feels like as much a part of their calling as providing nutritious, affordable food.
Ferguson Family Ranches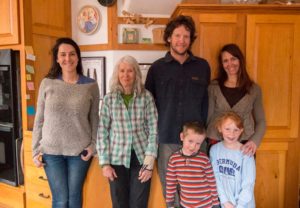 Liza Clarke, her son Tyler Ferguson, and his girlfriend Ana Worswick, sit at Liza's kitchen table on a cold day in March. Outside, their cattle graze in snowy pastures.
Ferguson Family Ranches is a true family operation run by Liza, her two sons Roscoe and Tyler, Ana, Tyler's daughter, Ana's son, and Roscoe's wife Lizzie Tilles. The ranch started in 1977 with Liza and her late husband Bill Ferguson.
Tyler and Roscoe's future in running the ranch was inevitable. The Ferguson brothers participated in 4H in high school and worked cows.
"I always figured at some point I'd come back here. I knew I would kind of take it over. Taking this place over happened a little sooner than I had anticipated but it is what it is. I've had to learn a lot on the fly," said Tyler. Tyler has been helping out full-time at the ranch since 2006 when his father passed. Read More…
Nash Farms: Building a Farm for the Next Generation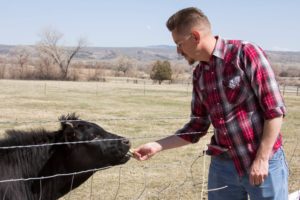 Rusty, but functioning, antique tractors and a modern solar array frame Tom Tschida as he describes the unlikely way he became a rancher. "I'd been away working for a long time when [my parents] bought this place and started building it up. A few years ago I decided to quit my job and move back home," Tom says of moving back to Montana to help his parents, Jerry and Carol Nash, run Nash Farms. After years of building a career as a photographer in Southern California, Tom found himself missing Montana. "I wanted to be around family. I wanted to be working with animals. I wanted to be playing in the dirt. So I came back to do all of that. It's been great." Read more…
Christina Stucker-Gassi: Connection through Activism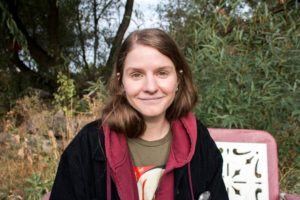 "My name is Ayisha Christina Stucker-Gassi, everyone knows me by Christina. I grew up in the Treasure Valley and I love Idaho."
Christina lives in Meridian, Idaho. She mentors youth transitioning out of juvenile correction centers.
Christina has been a member of Idaho Organization of Resource Councils (IORC) since 2014. She is co-chair of the IORC Ag and Food Task Force. She has held this volunteer position since 2016 and is passionate about the work IORC does. She is a food system reform advocate. Read More…
Read more stories about agriculture and food here.