Tell Senate to butt out of Keystone decision
In the past week, two major pipelines broke, spilling toxins directly into Montana and North Dakota rivers and drinking water supplies. Despite growing evidence that the United States has a pipeline safety problem, Congress is trying to force through the Keystone XL pipeline without vital safety reviews, rather than ensure existing pipelines are safe.
Contact your Senators today to urge them to oppose S. 1, the Keystone pipeline approval bill, and focus on pipeline safety instead.
Western Native Voice & Idaho Organization of Resource Councils affiliate with WORC
On Dec. 6, the WORC Board of Directors voted unanimously to accept applications for membership by Western Native Voice and the Idaho Organization of Resource Councils.
"We are pleased to welcome these two groups into the WORC," said Norm Cimon, outgoing Chair of WORC. "The Idaho Organization of Resource Councils hosts an emerging grassroots base in Idaho, while Western Native Voice extends our engagement with Native Americans communities throughout Montana. Both groups strengthen our regional network and our ability to impact local, state, and national policy decisions."
Coalition urges Congress to reject changes to Country of Origin Labels
A coalition of 207 farm, faith, environmental, labor, rural and consumer organizations delivered a letter December 2 to the Senate urging the legislators to reject any effort to repeal, rescind or weaken country of origin labeling in any federal spending legislation.
"As livestock producers and consumers, our members stand strong in our commitment to COOL and urge our Congressional representatives to support the pending appeal and let the process proceed," said Mabel Dobbs, a rancher from Weiser, Idaho, and member of WORC.
Groups file lawsuit against BLM's coal leasing program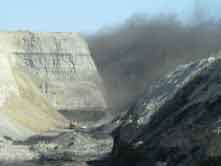 WORC and Friends of the Earth, with the support of philanthropist Paul G. Allen, today filed a lawsuit to require the U.S. Department of the Interior's Bureau of Land Management (BLM) to prepare a programmatic environmental impact statement for the federal coal leasing program.
There has not been a comprehensive environmental review of the federal coal leasing program since 1979. Since that time, scientific evidence has established that greenhouse gases produced by coal mining and combustion endanger the public health and welfare. The BLM, however, has never analyzed the coal leasing program's impact on climate change.
The complaint argues that the results of this analysis will compel the BLM to deliver on its legal obligation to promote environmentally responsible management of public lands on behalf of the citizens of the United States.
"More than 80 percent of federal coal comes from the Powder River Basin in Montana and Wyoming. People living in the Powder River Basin have endured many hardships not predicted in the outdated environmental studies including, lack of access to grazing lands, un-restored groundwater aquifers, toxic emissions from explosions, costly and dangerous railroad traffic in major cities to name a few," said Bob LeResche, Vice Chair of WORC and rancher from Clearmont, Wyo. "A full environmental study will enable the BLM to fulfill their duty to promote environmentally responsible management of public lands in light of climate change on behalf of the citizens of the United States."
New report looks at the natural gas flaring boom
Surging oil production in shale hot spots, like the Bakken in North Dakota and Eagle Ford in Texas, has increased waste of natural gas through flaring, venting, and leaking.
WORC's new report, The Flaring Boom, examines the causes and effects of flaring, venting, and leaking of natural gas by examining efforts to curtail these wasteful practices in Alaska, Colorado, Montana, North Dakota, Texas, and Wyoming.
"Flaring lowers quality of life in oil-producing communities through increased air pollution, deprives royalty payments to those owning the rights to the natural gas, and contributes to climate change," said Donald Nelson, a rancher from Keene, N.D., and Chair of WORC's Oil and Gas Campaign Team.
Nelson has 30 to 40 flares on his ranch. "It's easy to count them at night," he said.
Employment opportunities in the WORC network
Voices from the Bakken - Fighting Back
A snapshot of residents defending their water, land, communities, and families from the harmful effects of booming oil drilling in the Bakken region of northwest North Dakota.
Hydraulic Fracturing Photos
John Fenton and his
neigbors deal with the impacts of gas
drilling and hydraulic fracturing daily.
Click on Learn More to
view photographs.

Powder River member Audrey Malan gives thanks for local food and local producers in a High Plains News radio commentary.