Will Senate pass a Farm Bill for Monsanto or you?
Now is your opportunity to tell your Senators to support GMO labeling, crop diversity, livestock market reform, and country-of origin labeling amendments to the Farm Bill. Vote expected this week on these amendments. Go to WORC's Action Page.
WORC statement on draft hydraulic fracturing rules
When Interior Secretary Sally Jewell announced the Bureau of Land Management's new proposed rules for hydraulic fracturing of federal wells, she said, "As we continue to offer millions of acres of America's public lands for oil and gas development, it is important that the public has full confidence that the right safety and environmental protections are in place."
Read how confident WORC is.
Don't short cut Keystone XL pipeline review
The House of Representative is expected to vote next week to fast track approval of the Keystone XL tar sands oil pipeline. A simple message from you today could convince your representative to oppose this risky Keystone XL tar sands pipeline. Please go to WORC's Action Page and send your message.
Support labeling of genetically engineered food
Go to WORC's Action Page and urge your Senators and Representative to co-sponsor the Genetically Engineered Food Right to Know Act and thank those who have already co-sponsored this legislation.
Gone for Good: Fracking and Water Loss in the West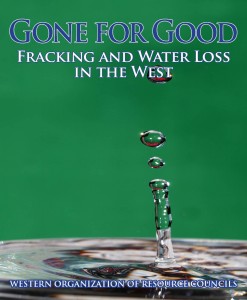 WORC's latest report, Gone for Good: Fracking and Water Loss in the West, examines on how the states of Colorado, Montana, North Dakota, and Wyoming let the oil and gas industry drain irreplaceable groundwater resources and remove these resources from the hydrological cycle.
This water loss threatens the future of other industries, agriculture, and the families who live near oil and gas development.
Help us call "time out" on federal coal lease giveaways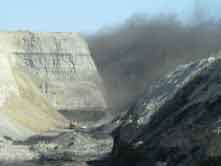 The federal coal leasing program run by the Department of Interior (DOI) has given the coal industry the right to mine and sell publicly-owned coal for much less than taxpayers should get in return -- as much as $30 billion dollars less over the last 30 years. This giveaway happens through noncompetitive auctions where DOI sells the rights to publicly-owned coal for a fraction of what it's worth.
And the federal government could lease about four billion more tons of publicly-owned coal, primarily in the Powder River Basin of Wyoming and Montana, in the next few years. The basin provides 40% of the country's mined coal. Most of this coal is federally owned.
Newly confirmed Interior Secretary Sally Jewell has the power to stop this giveaway to the coal industry. (Photo by Paul Anderson)
21 groups call for moratorium on Powder River coal
WORC, Powder River Basin Resource Council, Northern Plains and 18 other organizations welcomed Secretary of the Interior Sally Jewell to her first day on the job with a letter calling for "an immediate moratorium on new coal leasing in the Powder River Basin and a comprehensive review of the federal coal leasing program."
Gas exports mean more fracking
The Department of Energy (DOE) is studying whether to sell frracked liquefied natural gas (LNG) overseas. But DOE is not looking at the effects fracking natural gas has on clean water, clean air, and public health. DOE is only studying the economics of exporting fracked LNG.
Tell President Obama and DOE to expand their study of LNG exports.
Report: Ambre Energy unlikely to succeed with U.S. coal exporting plans
Ambre Energy, an Australian company touting plans for a pair of controversial coal export terminal sites in Washington and Oregon, faces mounting financial, regulatory and other challenges that make it unlikely to deliver on its promises, according to a new report by the Sightline Institute.
Oil and Gas Inspections Falling Further Behind
With new data showing that state and federal oil and gas agencies are not keeping up with the rise in oil and gas drilling, members of WORC are calling attention to the need for state and the federal governments to fund more inspectors and increase penalties for violating public health, safety and environmental laws.
Heavy Traffic Ahead
WORC's' new report identifies costs, many of which will fall on taxpayers, for infrastructure due to increased coal rail traffic. The price tag for upgrading rail lines, roads and other infrastructure to support proposed coal export facilities on the West Cost could reach into the billions of dollars across the four-state Northwest region. Read the report and news release at heavytrafficahead.org. Read presentation on the report.
Hydraulic Fracturing Photos
John Fenton and his
neigbors deal with the impacts of gas
drilling and hydraulic fracturing daily.
Click on Learn More to view photographs.

Powder River member Audrey Malan gives thanks for local food and local producers in a High Plains News radio commentary.