Staff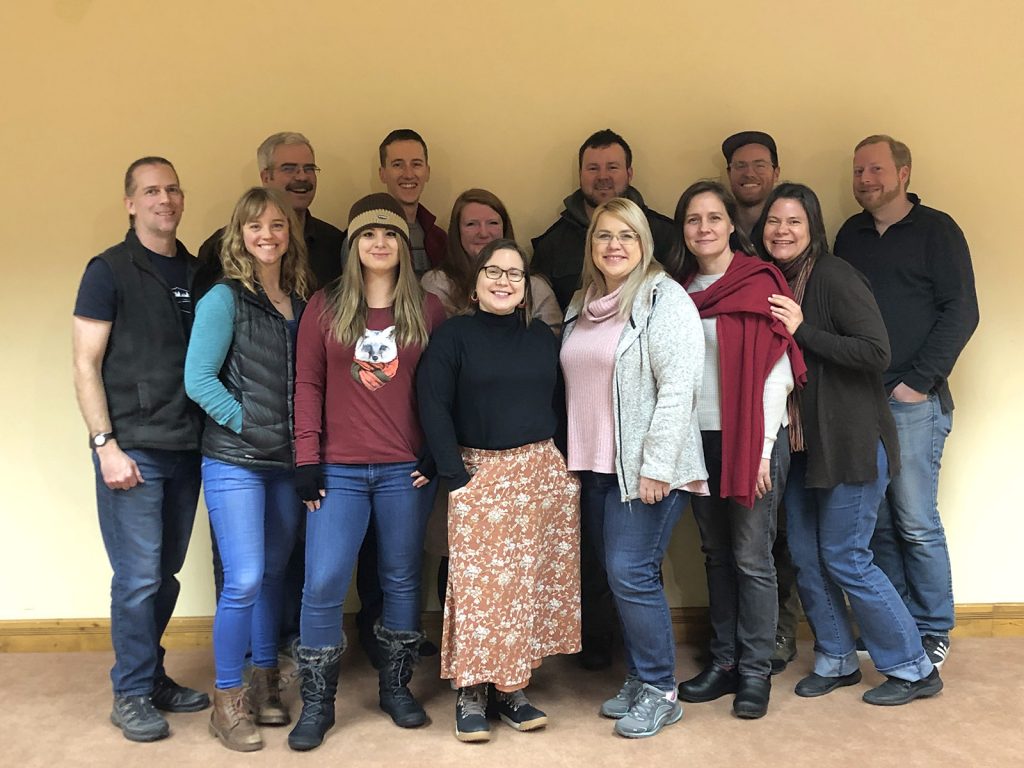 John Smillie, Executive Director
John graduated from Stanford University in history in 1977, and moved to Montana in 1978. He was an organizer and research coordinator for the Northern Plains Resource Council from 1979 to 1986, and was Campaign Director for WORC from 1986-2014. He has been a trainer for WORC's Principles of Community Organizing sessions, writer and editor of many WORC publications, and lead staff for several regional and national campaigns on agricultural and natural resource issues. John became Executive Director on January 1, 2015. John and his wife, Margie MacDonald, have lived in Billings, Montana. since 1982.
Kevin Williams, Director of Organizing

Kevin is a graduate of the University of Idaho with a Master of Science Degree in Forest Resources.  As Director of Organizing, Kevin is responsible for coordinating a multi-faceted training program for members and staff, and delivering a wide range of capacity building assistance to WORC's member groups in seven states. Kevin has worked in the WORC network as community organizer, staff director and field organizer since 1984.
Patrick Sweeney, Senior Advisor
Pat served as WORC Executive Director from 1982 to 2014. He is a third generation Montanan and a graduate of the University of Montana in history. He has been a community organizer on natural resource and family farm agriculture issues in the Great Plains and Rocky Mountain Region since 1972. He has served on numerous state and federal boards and commissions dealing with energy, mining, reclamation and water. He is a founder of Montana Conservation Voters, Montana Rural Voters and Montana Native Vote with campaign and field experience. He currently serves on the board of Big Sky 55+ as Treasurer and Managing Director of A Better Big Sky, a Montana donor table. As senior advisor, Pat focuses on special projects, civic engagement and voter participation programs, and fundraising.
He serves on the Board of Directors for the Bus Federation Civic Fund – national youth voter engagement programs, and Executive Committee for the Power Past Coal and Western Coalfield Alliance Campaigns. He is a founder of Montana Conservation Voters, Montana Rural Voters and Montana Native Vote with campaign and field experience. As senior advisor, Pat focuses on special projects, civic engagement and voter participation programs, and fundraising.
Sara Kendall, Program Director
Sara is a graduate of Middlebury College with a B.A. in Environmental Studies. As Program Director, Sara coordinates WORC's regional issue campaigns, as well as our Diversity, Equity and Inclusion work. She has represented WORC in Washington, D.C., since 1994, monitoring Washington policy decisions that affect WORC's members, activating our organizations and leaders, and leading issue campaigns. Sara has written and edited many WORC publications, including Uncertain Fortune, Law and Order in the Oil and Gas Fields, and Model Oil and Gas Laws, Regulations and Ordinances.
Anna Lucas, Political Director
Anna Lucas joined WORC in the Washington, D.C., office in 2008 working on state and federal policy relevant to the states in the WORC region, and also leads the Regional Infrastructure Program expanding WORC's civic engagement and voter participation work. She works closely with the rural voters projects in Montana, North Dakota, and South Dakota, and also with Montana Native Vote. Prior to joining WORC, she served in Kenya with the US Peace Corps, and is a graduate from the University of Maryland, College Park.
Angel Amaya, Communications Director
Angel Amaya is a Mexican-American documentary filmmaker and media specialist from Corpus Christi, Texas. Angel has a BA in English from Texas A&M-Corpus Christi and a MA in Media Studies and Documentary Studies from The New School in New York, New York. She started documentary filmmaking at a young age, with local civil rights marches for immigrant rights in South Texas. During her Masters studies, she directed and produced two documentaries, 06 Female Wolf, and The World is Yours. The World is Yours premiered May 2016 in the Truth Be Told NYC film festival. She has also worked as a professional documentary film critic for the 2016 Peabody Awards. Her focus in media has been on human and environmental rights efforts through storytelling. This is reflected in her communications work at Human Rights Watch, Vote Smart, Proof: Media for Social Justice, and Public Citizen. She was an associate producer on the Showtime documentary film called Beyond the Opposite Sex, which premiered on Showtime in 2018. She is also currently a producer on the full feature documentary Elephant Keeper. Angel joined WORC as Communications Director in November 2018.
Kerri Nelson Wolenetz, Director of Finance and Administration
Kerri joined the WORC staff in May 2002 as a college research intern on food safety and GM crop issues. She stayed on staff after graduation in 2003, to become WORC's Development Director and coordinate joint fundraising for the WORC network. Kerri also provides administrative, accounting and communications support. Kerri is a graduate of Rocky Mountain College with a B.A. in English and Writing.
Eric Halstvedt, Regional Technology Coordinator
Eric joined the WORC staff in November 2013. He's a fourth-generation Montanan with a B.A. in International Commerce & Spanish from Montana State University, and a B.S. in Information Systems from MSU-Billings. Eric has worked in the information technology field since 2000 when he went to work for Microsoft, and has used his technological knowledge in Montana's non-profit community since 2004.
Natalie HardWicke, Creative Content Producer
Natalie joined the WORC staff in July 2017 after graduating from the University of Oregon with a degree in Journalism and Environmental Studies. She is Chicago-raised but fell in love with the west. Natalie produces photographs, articles, and videos for WORC's Homegrown Stories, Homegrown Prosperity, and Living with Oil and Gas projects. She is a passionate storyteller and advocate for human rights and environmental justice.
Eric Warren, Media Coordinator
Eric grew up in Billings, Montana, but has since lived all over the mountain west including northern Wyoming and Colorado's western desert. He majored in photography at Northwest College and creative writing at the University of Montana. He combined his visual and storytelling skills for almost a decade as a documentary filmmaker focusing on the environment, education, and rural issues. Before joining WORC in 2018, he produced films for Western Native Voice and Northern Plains Resource Council, including Mixing Oil and Water, which screened at dozens of film festivals on three continents.
Sara Cawley, Washington, DC Representative
Sara Cawley joined the WORC team in April 2018, after completing a two-year Wyss Fellowship at the National Wildlife Federation, where she handled public lands defense issues and advocated for increased conservation funding and land protections. As the DC Representative, Sara works to develop and implement policy campaigns on WORC's federal priorities. Sara earned a B.A. in Political Science and Environmental Studies from Gettysburg College and an M.S. in Environmental Policy and Planning from the University of Michigan. Prior to graduate school, Sara spent a year in Copenhagen on a Fulbright grant studying Danish collaborative natural resource management.
Rachel Zatterstrom, Leadership and Capacity Director

Rachel joined the WORC network as an organizer for Western Colorado Alliance in 2013 and the WORC staff team in 2017. With WCC, she worked with members to win a variety of statewide and local campaigns including a 2015 statewide legislative campaign to expand Colorado's Cottage Foods Act, a 2016 ballot measure to raise Colorado's minimum wage, and a campaign to legitimize and fund a Housing Authority in Ouray County. Rachel earned a B.A. in Environmental History from Hampshire College and a M.A. in Environmental Leadership from Naropa University. She is a passionate facilitator and trainer, dedicated to developing the leadership capacity and skills of people who want to work for positive social change in their community. Rachel spent her formative years on her family's ranch in Nucla, Colorado, where she ate a lot of dirt and rarely came indoors.
Dan Cohn, Regional Organizer
Dan joined the WORC staff in June 2014 as an intern. As WORC's lead staff on coal, he helps develop and implement strategy around coal mine reclamation, bonding, coal leasing, and export. He has a bachelor's degree from Washington University in St. Louis, Missouri, where he was involved in community organizing around the coal industry.
David Wieland, Regional Organizer
David joined the WORC Staff in January 2019. After studying Political Science at the University of Washington, David worked in youth organizing, lobbying, and candidate recruitment and development in Washington and Alaska. After a brief stint leading trail crews in National Parks and Forests across the West, he returned to organizing to serve as WORC's lead on Oil and Gas issues and campaigns.
Kate

 French, Regional Organizer
Kate is focusing on issues of Just Transition, clean and renewable energy, and homegrown prosperity work. Before joining the WORC staff team in 2018, Kate volunteered with Northern Plains Resource Council, primarily on coal mine and transport campaigns. She previously worked in international travel, specializing in adventure and community-run tourism in South America. Kate earned her bachelors degree from the University of Colorado at Boulder and her Masters of Public Administration from Montana State University.
Tim Glaza, Regional Organizer
Tim joined the WORC staff team in 2019 to organize on agriculture and food issues. Born and raised in Iowa, Tim has extensive experience managing canvass teams, recently worked as an organizer with Dakota Resource Council, and served as a Peace Corps volunteer working with family farmers in Zambia on regenerative agriculture and forestry. He earned a B.A. in Political Science from Iowa State University and a M.S. in Political Science from Illinois State University.
Eileen Hanchett, Comptroller
Eileen joined the WORC staff in April 1986. She is a graduate of the Billings Vo-Tech Center. As Comptroller, she handles audits, finances, tax, accounts receivable/payable, retirement plan, health insurance administrator and payroll.
Marvel Karch, Office Administrator
Marvel has been with WORC since September 1995. Not only does she keep the office running smoothly, she is lead on internal fundraising, donor support and stewardship and uses her 20+ years of logistics knowledge to do outside consulting for large meetings, which brings in extra revenue to WORC. Marvel also supplies support for accounting, training and communication work.