WORC Board of Directors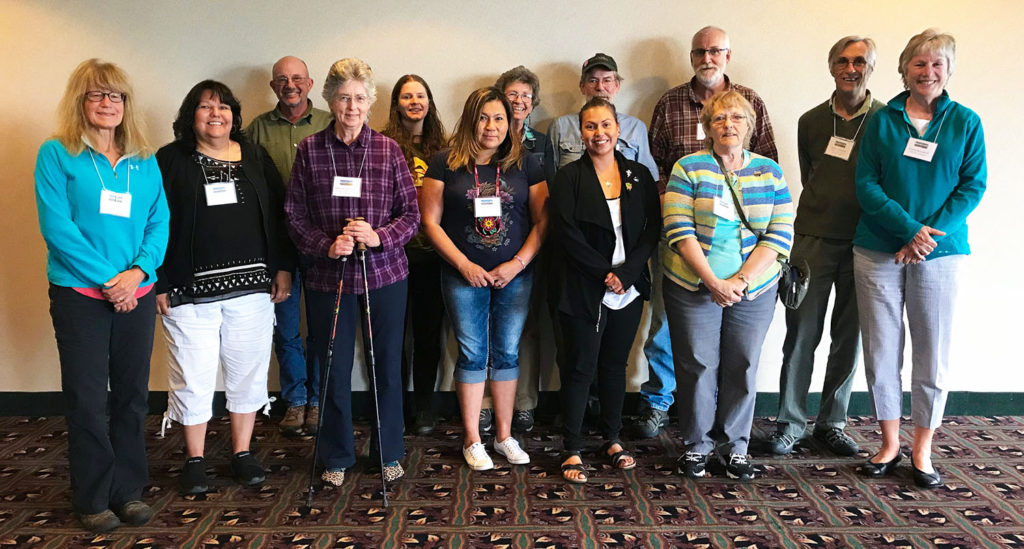 Lisa DeVille – An enrolled member of the Three Affiliated Tribes on the Fort Berthold Reservation, Lisa holds a Master of Management, MBA, and BS in Management from the University of Mary. Active in her community, Lisa was awarded the North Dakota 2015 Human Rights Award.
Linda Weiss – Linda lives in Belfield, North Dakota, where she is a volunteer Emergency Medical Technician. A former Chair of DRC, she is active in DRC's campaigns on agriculture and oil and gas issues.
Stephanie Peterson – Stephanie operates a wholesale pasture-raised egg business in Southeast South Dakota and serves on the board for Dakota Rural Action. Through her work with DRA's local chapter, Homegrown Sioux Empire, she supports South Dakota growers and the restaurants and markets that sell their products. Stephanie also serves on the Sioux Falls Food Council, the Sioux Falls Thrive Food Security Action Team, and the City of Sioux Falls Sustainability Steering Committee.
Nancy Hartenhoff-Crooks – Nancy has been a member of Dakota Rural Action for close to twenty years. She is currently co-chair of the DRA Small Farms committee. Nancy and her husband live on a small acreage on the edge of Toronto, SD. Nancy is currently the coordinator of disability services at South Dakota State University.
Linda Leeuwrik, PH.D. – Linda is a cultural and intellectual historian, with bachelor, masters, and doctoral degrees from Virginia Tech, Georgia State University, and Bryn Mawr College. Concerned with clean water, air, and energy, Linda joined the Idaho Organization of Resource Councils, Portneuf Resource Council, and WORC in 2014, eager to be more involved in working on Idaho's water protection, clean energy future, local foods initiatives, and responsible oil and gas development. Linda is a writer and editor and she is politically active, considering another run for elected office.
Stephanie Rael – Stephanie found her passion for good, nourishing food while volunteering on an organic farm in Germany. "It made a huge impact on how I wanted to live my life." Stephanie's interest in local agriculture and the local food movement inspired her to get involved with IORC in 2016.
Roxa Reller – is a longtime Northern Plains member and in 2009, helped to found the Helena area Northern Plains affiliate, Sleeping Giant Citizens Council. She earned her degree in Range Science from Montana State University, and worked on land reclamation and range vegetation monitoring for much of her career. She grew up around the Upper Rosebud on a small cow-calf operation, and has a deep love for ranching, sustainable ag, and the vast beauty of the Eastern Montana landscape. Roxa serves on the Clean Energy Task Force.
Dena Hoff – Dena Hoff raises sheep, cattle, alfalfa, corn, and edible dry beans, among other crops, on her farm in Glendive, Montana. She is a past chair of Northern Plains Resource Council and a past chair of her local Northern Plains affiliate, Dawson Resource Council. She serves on Northern Plains' Agriculture & Food Task Force, and believes deeply that we can build a better and more equitable food system. She also led Northern Plains' fight against the Keystone XL tar sands oil pipeline. Dena represents Northern Plains Resource Council on the National Family Farm Coalition, and is former co-chair of the North American region of La Via Campesina. She's traveled from Morocco to Geneva representing the various groups she leads, and stands in solidarity with peasant farmers' movements around the world.
Mitch Wolgamott – Mitch is a native, Oregonian. Mitch has degrees in Zoology (BS OSU) and Biology (MS PSU). He has worked in both the private and public sectors retiring after serving as Eastern Region Administrator for the Oregon Department of Environmental Quality.  Mitch and his wife, artist Sue Orlaske, reside on a small woodlot on the eastern slope of the Blue Mountains near Summerville.  
Norm Cimon – A resident of northeast Oregon since 1980, Norm has a degree in mathematics from the University of Nevada Las Vegas. He's worked for UNLV, the Environmental Protection Agency, U.S. Forest Service, and the private sector. A member of the board of directors for the Grande Ronde Model Watershed, he has a keen interest in water resources. Norm lives in La Grande with his wife, Shelley.
Bob LeResche – Bob and his wife, Carol, own a ranch near Clearmont, Wyoming, where they produce organic heirloom produce for a Community Supported Agriculture group. Bob is the current Chair of WORC.
Board Member – Vacant
Steve Allerton – Steve left the teaching profession in 2014 and has entered "refinement", a term he coined to use in place of "retirement." For Steve, refinement is about digging into those things he loves: family and three grandsons, music, backpacking/hiking with his wife and friends, and helping to create healthy soils in which to grow vegetables for the community. He is Chair of WCC and active in Mesa County's clean energy program.
Andreya Krieves – Andreya's professional background is in secondary education, having taught middle and high school in Colorado, Texas, and New York. She is active in community campaigns in Grand Junction, Colorado, recently serving as Chair for a local Community Center Campaign and as volunteer coordinator for a recent school bond campaign. She enjoys volunteering in her children's classrooms, and teaches yoga on the side. Andreya is an avid runner and skier and enjoys exploring the outdoors with her husband and two young boys.
Kekek Stark– Kekek is Turtle Mountain Ojibwe, member of the Bizhiw (Lynx) Clan and a practitioner of Indigenous law. He has built institutions grounded in Anishinaabe law and helped students and communities forge better relations between Indigenous and non-Indigenous institutions and peoples. Kekek is a former president of the Minnesota American Indian Bar Association, a Bush Foundation Leadership Fellow and alumnus of Hamline University School of Law. He joined the Alexander Blewett III School of Law faculty in the summer of 2020 as an assistant professor, and also worked as an assistant professor with the American Indian Studies Department at the University of Minnesota – Duluth as well as an adjunct faculty member at several institutions. He has taught courses in federal Indian law, tribal law, tribal natural resources law, Tribal government, Tribal sovereignty, treaty rights, Indian Child Welfare, and American Indian diplomacy.
Board Member – Vacant
---
Never miss an opportunity to make the West a healthier and more sustainable place to call home.