Good Meat Summit in May
WORC is bringing leaders and staff from each of our member groups to join with experts, academics and practitioners for a "Good Meat Summit." The invitation-only Summit will be held May 21-22, 2015, at the Home on the Range.
The Summit will build on WORC's 2014 report, Growing the 16%, which described our thinking about how rural grassroots groups, like those in WORC, can organize locally to expand alternative meat markets as economic options to the 84% of the market controlled by the "Big Four" meatpackers.
The purpose of the Summit is to help us develop a deeper understanding of how to get more "good meat," raised sustainably by independent, family farmers and ranchers, on the plates of more Western families. We want to test the solutions described in the report, develop a deeper understanding of the challenges, and explore policy options that build or strengthen alternatives to industrial meat.
For more information about the Summit, contact WORC Regional Organizer Liz Stelk.
WORC asks House subcommittee to support Country-of-Origin Labels
On behalf of WORC, Wyoming rancher Wilma Tope submitted written testimony to a March 25 hearing by the U.S. House Agriculture Subcommittee on Livestock and Foreign Agriculture on Meat Labeling Requirements.
She urged Congress to refrain from weakening country-of-origin labeling (COOL):
"As producers, we believe we have the right to have the country-of-origin displayed on meat we produce. We are proud of our product, and we have a long-held belief that a U. S. label stands for family tradition, quality, pride, and a safe and wholesome product.
"In an increasingly global market, labeling of our beef, as well as other products, will increase demand for U.S. products, which in turn will lead to increased production, more jobs and economic development in our small towns and main streets, and our entire national economy.
"Congress should not short-circuit the WTO process; nor should it unconditionally surrender to the threats of tariff retaliation by our trading partners."

WORC statement on release of fracking rules
Bob LeResche released the following statement March 20 on behalf of WORC after the publication of new hydraulic fracturing rules by the Bureau of Land Management (BLM). LeResche is Chair of WORC and lives in Clearmont, Wyoming. BLM's new rules affect 750 million acres of federally owned oil and gas nationwide, including 57 million acres of split estate land (private land with federally owned oil and gas).
"These rules provide new and noteworthy protections to reduce pollution from waste pits and faulty well bores, which are well-known sources of contamination. These standards are already in place in a few states, but it's good for the BLM to apply them to federal sites nationwide.
"The rule also seems to limit the ability of companies to designate chemicals used in fracking as 'trade secrets' and avoid disclosing them publically. Recently, a citizen lawsuit and court settlement resulted in stricter 'trade secret' standards in Wyoming, and this new BLM rule appears to follow that lead. However, this new rule is much less beneficial than it might be because it uses the problematic 'FracFocus' process and because disclosure is not required until after the chemicals have been injected during fracking.
"Unfortunately, with these exceptions, the rules fail to make the real changes needed to fully protect public health, land, air, and water. We are deeply disappointed that BLM didn't require baseline water quality tests or public disclosure of chemicals before fracking so landowners can detect changes in their water caused by fracking."
Groups advance local food in legislatures
Six WORC groups are supporting state legislative proposals on local and homemade foods.
Over 30 states allow small food producers to prepare some non-hazardous foods like breads, cakes and pickles to sell directly to consumers.
Ranchers, Consumers Applaud Dismissal of COOL Lawsuit

Opponents of the U.S. country of origin labeling (COOL) law dropped their case against the U.S. Department of Agriculture (USDA). Meatpackers and trade groups sought to end the popular labeling law that informs consumers where the meat they buy was born, raised, and slaughtered.
R-CALF USA, Food & Water Watch, WORC and the South Dakota Stockgrowers Association intervened on behalf of the USDA. This intervention is part of a long campaign to enact, implement and protect COOL.
"Congress must abandon its efforts to meddle with meat labels, which are overwhelmingly popular with ranchers and consumers," said Mabel Dobbs, a rancher from Weiser, Idaho, and member of the Western Organization of Resource Councils. "Even the meatpackers have given up now on their effort to stop COOL in the courts. It's time for Congress to leave these commonsense labels alone."
Poor return to taxpayers from federal coal royalties
A Headwaters Economics report says taxpayers do not get a fair return on their coal because the effective royalty rate of 4.9 percent is lower than the rate set by law. It is also lower than the rate paid for taxpayer-owned oil and gas.
More than 80 percent of federal coal comes from the Powder River Basin in Montana and Wyoming.
Statement by Bob LeResche for WORC and the Powder River Basin Resource Council on the release of "An Assessment of U.S. Federal Coal Royalties - Current Royalty Structure, Effective Royalty Rates, and Reform Options."
"Headwaters Economics has shown that loopholes in the Department of the Interior coal royalty system have allowed Big Coal to avoid paying the full amount due federal taxpayers. The loss to Americans is substantial – roughly $850 million between 2008 and 2012. This report shows it is past time for Secretary Sally Jewell and Interior to close these loopholes and ensure the public collects the full value of coal royalties. It's time to start focusing on getting a fair price for our publicly owned coal resource and to begin collecting fair royalties for the American people."
Western Native Voice & Idaho Organization of Resource Councils affiliate with WORC
On Dec. 6, the WORC Board of Directors voted unanimously to accept applications for membership by Western Native Voice and the Idaho Organization of Resource Councils.
"We are pleased to welcome these two groups into the WORC," said Norm Cimon, outgoing Chair of WORC. "The Idaho Organization of Resource Councils hosts an emerging grassroots base in Idaho, while Western Native Voice extends our engagement with Native Americans communities throughout Montana. Both groups strengthen our regional network and our ability to impact local, state, and national policy decisions."
Groups file lawsuit against BLM's coal leasing program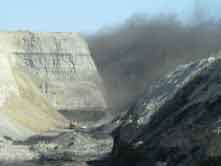 WORC and Friends of the Earth, with the support of philanthropist Paul G. Allen, filed a lawsuit Nov. 25 to require the U.S. Department of the Interior's Bureau of Land Management (BLM) to prepare a programmatic environmental impact statement for the federal coal leasing program.
There has not been a comprehensive environmental review of the federal coal leasing program since 1979. Since that time, scientific evidence has established that greenhouse gases produced by coal mining and combustion endanger the public health and welfare.
The BLM, however, has never analyzed the coal leasing program's impact on climate change.
The complaint argues that the results of this analysis will compel the BLM to deliver on its legal obligation to promote environmentally responsible management of public lands on behalf of the citizens of the United States.
"More than 80 percent of federal coal comes from the Powder River Basin in Montana and Wyoming. People living in the Powder River Basin have endured many hardships not predicted in the outdated environmental studies including, lack of access to grazing lands, un-restored groundwater aquifers, toxic emissions from explosions, costly and dangerous railroad traffic in major cities to name a few," said Bob LeResche, Vice Chair of WORC and rancher from Clearmont, Wyo. "A full environmental study will enable the BLM to fulfill their duty to promote environmentally responsible management of public lands in light of climate change on behalf of the citizens of the United States."
New report looks at the natural gas flaring boom
Surging oil production in shale hot spots, like the Bakken in North Dakota and Eagle Ford in Texas, has increased waste of natural gas through flaring, venting, and leaking.
WORC's new report, The Flaring Boom, examines the causes and effects of flaring, venting, and leaking of natural gas by examining efforts to curtail these wasteful practices in Alaska, Colorado, Montana, North Dakota, Texas, and Wyoming.
"Flaring lowers quality of life in oil-producing communities through increased air pollution, deprives royalty payments to those owning the rights to the natural gas, and contributes to climate change," said Donald Nelson, a rancher from Keene, N.D., and Chair of WORC's Oil and Gas Campaign Team.
Nelson has 30 to 40 flares on his ranch. "It's easy to count them at night," he said.
Voices from the Bakken - Fighting Back
A snapshot of residents defending their water, land, communities, and families from the harmful effects of booming oil drilling in the Bakken region of northwest North Dakota.
Hydraulic Fracturing Photos
John Fenton and his
neigbors deal with the impacts of gas
drilling and hydraulic fracturing daily.
Click on Learn More to
view photographs.

Powder River member Audrey Malan gives thanks for local food and local producers in a High Plains News radio commentary.