Principles of Community Organizing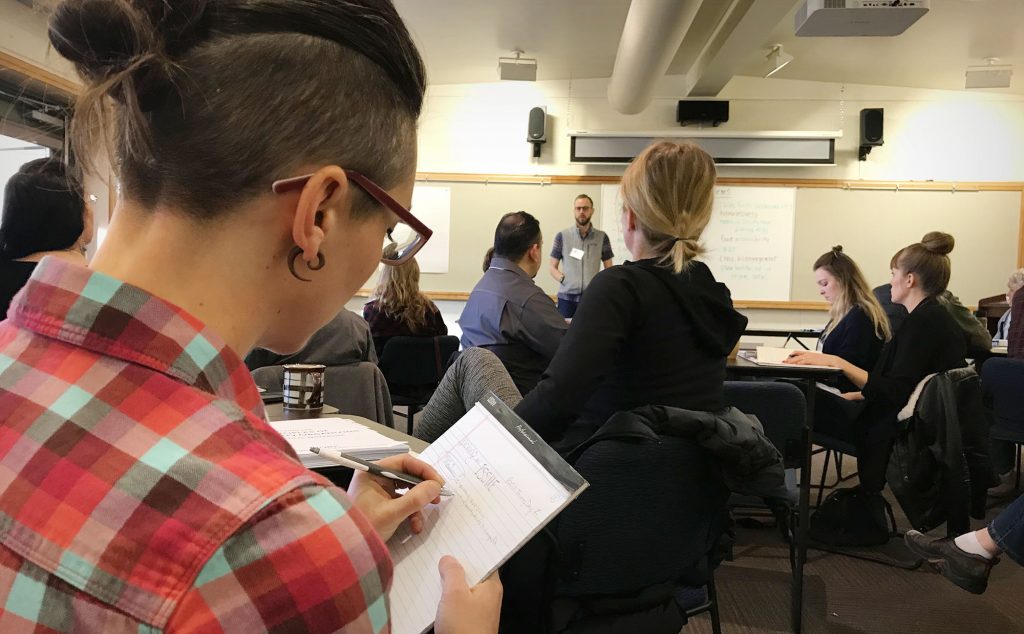 Principles of Community Organizing
POCO sessions are full for 2020. We are no longer taking applications.
WORC's Principles of Community Organizing training develops the skills of leaders and staff to build powerful organizations and launch winning issue campaigns. The hands-on workshop covers the basics of leadership, fundraising, organizational development, and community organizing.
Based on ongoing pandemic conditions and restricted regional travel, the face-to-face POCO training previously scheduled in Billings for July 22-25 has been canceled.
In its place, we will offer an online training series that includes as many of the POCO sessions that can be reasonably translated into an online environment. The online training series will include a mix of weekday evening and Saturday morning sessions over the course of a couple of months beginning on Saturday, Aug. 1.
As with our face-to-face training, the sessions will be interactive and build on one another and the training is strengthened with everyone's full participation. Participants are strongly encouraged to attend the entire training series.
Online Training Series – Principles of Community Organizing
The training will be conducted via Zoom and, as with our in-person training, it will be participatory and interactive. Space is limited and the training is capped at 35 participants.
Once your application has been approved, we will email you a registration form. A training packet will be circulated prior to the training. You can expect some take-home assignments to complete between sessions, so please plan accordingly.
"Just a few days after returning from the workshop, I had the opportunity to do my first large-donor ask. The result was a $750 donation to Dakota Rural Action.

Because of my experience at this workshop, I feel I will be able to continue my fundraising work for DRA with this same level of comfort and confidence."

– Wyatt Urlacher, member
Training Schedule and Content
Saturday Sessions will be held from 10:00 am – 1:00 pm*
Wednesday sessions will be held from 6:30 pm – 8:00 pm*
*all times mountain
Session 1: Saturday, August 1
Introductions, Training Overview
Why Organize, Power & Conflict
Characteristics of Community Organizations
Session 2: Wednesday, August 5
Self Interest & one-one-one relational meetings
Session 3: Wednesday, August 19
Session 4: Wednesday, September 2
Identifying & Picking an Issue, Part 1
Session 5: Saturday, September 12
Identifying & Picking an Issue, Part 2
Developing an Issue Campaign
Session 6: Wednesday, September 16
Membership Systems & Recruitment
Session 7: Saturday, September 26
Grassroots Fundraising & Organizing (Sisters in the Struggle)
Training Evaluation & Closure
Tuition
Tuition fees are reduced as we will not be offering the full curriculum. Fees for the full series are:
$40 for members
$200 for non-members
Please contact the staff director of your WORC member group to make sure you have the director's support to apply and that you qualify for the reduced tuition.
Once you have received the staff director's approval to apply, complete the application and submit it, along with a brief explanation of why you want to participate.