Colorado's 2018 legislature had more twists and turns than a fun house ride.
Legislative report written by Western Colorado Alliance for Community Action
Colorado's 2017-2018 legislative year was filled with surprises. Having split chambers in a mid-term election year usually means it can be all but impossible to pass meaningful legislation. This session, however, was one where participation mattered.
Following the success of this year's People's Lobby Trip in March, where our members helped persuade a Western Slope legislator to change his vote in committee, our Alliance members continued to have a vocal presence at the Capitol through phone calls, emails, and remote testimony.  With split chambers, it can be difficult to pass meaningful bills during midterm election years. Although we have more work ahead, this was a good year for some of the issues we work on at our Alliance. Here's a look at the some of the bills we tracked this session:
Clean and Renewable Energy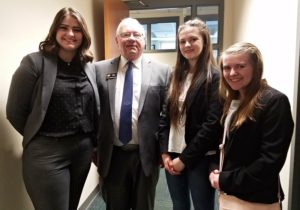 Allow Electric Utility Customers (to) Install Energy Storage Equipment Plan (SB18-009): PASSED
The bill declares that consumers of electricity have a right to install, interconnect, and use energy storage systems on their property, and that this will enhance the reliability and efficiency of the electric grid, save money, support small-scale renewable energy systems, and reduce the need for large-scale electric generation facilities. Western Colorado Alliance supports this bill.
Climate Change Preparedness & Resiliency (HB18-1297):FAILED
This bill would have adopted a comprehensive plan to proactively address anticipated impacts on Colorado from global climate change through a series of greenhouse gas emission reduction goals as well as increased data collection and analysis through the Colorado Resiliency and Recovery office. Western Colorado Alliance supports this bill.
Gas Field Justice
We tracked six oil and gas-related bills this session, all of which failed to pass. Western Colorado Alliance supported five of these bills, viewing them as common-sense measures to ensure public safety in communities living near oil & gas facilities.
Oil & Gas Facilities Distance from School Property (HB18-1352): FAILED
This bill would have clarified that the minimum 1,000-foot distance from which newly permitted oil and gas production facilities and wells must be located from any school is measured from the school property line rather than the school building. Western Colorado Alliance supports this bill.
Local Government Liable Fracking Ban Oil & Gas Moratorium (HB18-1150): FAILED
This bill would require local governments that interfere with oil and gas operations through fracking bans or other regulations to compensate persons damaged by the interference. Western Colorado Alliance opposes this bill.
Homegrown Prosperity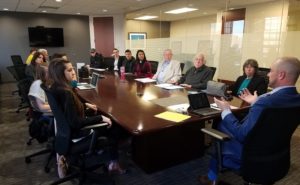 Breaking through the partisan noise, our Western Slope legislators joined forces to see four strong bills geared toward supporting rural economies succeed in the legislature this year.
Rural Economic Advancement of Colorado Towns (SB18-005): PASSED
This bill mobilizes non-monetary resources to assist with job retention or creation in a rural community experiencing a significant economic event. Such an event includes a plant closure or layoffs, including industry-wide layoffs, so long as it has a significant, quantifiable impact on jobs within that community. Western Colorado Alliance supports this bill.
Financing Rural Broadband Deployment (SB18-002): PASSED
This bill will require the Public Utilities Commission to allocate 60% of high cost funding in 2019 be dedicated to broadband deployment, with 10% in each subsequent year until 2023. Western Colorado Alliance supports this bill.
The battle may not be over as this bill is likely to be fought in court, but passing it through our legislature is an important first step.
Social Justice
At the request of our members and allied organizations, the Legislative Committee tracked several bills this year concerning our migrant communities, homelessness, suicide prevention, as well as affordable housing. While many of these bills failed this year, we anticipate they will be back again.
Eligibility Colorado Road and Community Safety Act (SB18-108 ): PASSED
Congratulations to the Hispanic Affairs Project as well as the Colorado Immigrant Rights Coalition for the successful passage of this bill! SB18-108 expands access to a driver's licenses to our migrant population and allows a person to present a social security number as an alternative to a taxpayer identification card in order to obtain a valid driver's license. Western Colorado Alliance supports this bill.
Task Force For Youth Experiencing Homelessness (HB18-1021): FAILED
This bill was an effort lead by The House, and other youth shelters and programs in Colorado focused on supporting youth experiencing homelessness. The bill establishes a task force focused on studying and recommending ways to improve issues related to this vulnerable population in Colorado. Western Colorado Alliance supports this bill.
Legislation wasn't the only thing the Alliance tracked during the legislative session this year. For more information, take a look at their tracker or read more here!