WORC Board of Directors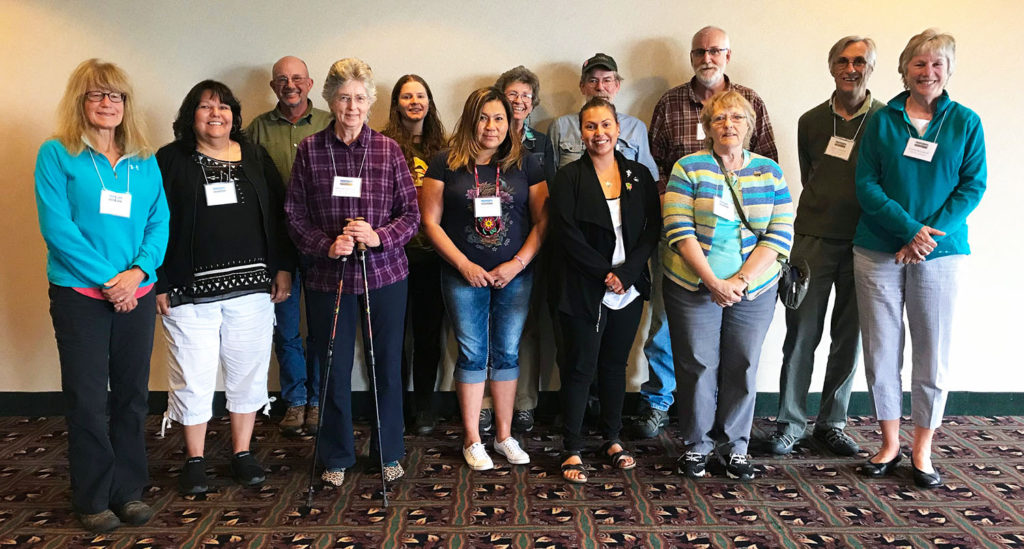 Lisa DeVille –  An enrolled member of the Three Affiliated Tribes on the Fort Berthold Reservation, Lisa holds a Master of Management, MBA, and BS in Management from the University of Mary. Active in her community, Lisa was awarded the North Dakota 2015 Human Rights Award.
Linda Weiss – Linda lives in Belfield, North Dakota, where she is a volunteer Emergency Medical Technician. A former Chair of DRC, she is active in DRC's campaigns on agriculture and oil and gas issues.
Stephanie Peterson – Stephanie operates a wholesale pasture-raised egg business in Southeast South Dakota and serves on the board for Dakota Rural Action.  Through her work with DRA's local chapter, Homegrown Sioux Empire, she supports South Dakota growers and the restaurants and markets that sell their products. Stephanie also serves on the Sioux Falls Food Council, the Sioux Falls Thrive Food Security Action Team, and the City of Sioux Falls Sustainability Steering Committee.  
Nancy Hartenhoff-Crooks – Nancy has been a member of Dakota Rural Action for close to twenty years. She is currently co-chair of the DRA Small Farms committee. Nancy and her husband live on a small acreage on the edge of Toronto, SD.  Nancy is currently the coordinator of disability services at South Dakota State University.
Linda Leeuwrik, PH.D. – Linda is a cultural and intellectual historian, with bachelor, masters, and doctoral degrees from Virginia Tech, Georgia State University, and Bryn Mawr College. Concerned with clean water, air, and energy, Linda joined the Idaho Organization of Resource Councils, Portneuf Resource Council, and WORC in 2014, eager to be more involved in working on Idaho's water protection, clean energy future, local foods initiatives, and responsible oil and gas development. Linda is a writer and editor and she is politically active, considering another run for elected office.
Stephanie Rael – Stephanie found her passion for good, nourishing food while volunteering on an organic farm in Germany. "It made a huge impact on how I wanted to live my life." Stephanie's interest in local agriculture and the local food movement inspired her to get involved with IORC in 2016.
Steve Charter – Steve is a second-generation leader of Northern Plains. His parents co-founded Northern Plains when Steve was in high school, and he served as Chair in 2013-2015. Coal companies have had their eyes on the Charter Ranch since the early 1970s, and Steve is still fighting them. He and his late wife were sued by the federal government for refusing to pay the Beef Checkoff because those funds were used to promote corporate domination of agriculture. He is a leader in the drive for healthier soil, and uses his ranch as a sort of "laboratory" to try out soil health techniques.
Mary Fitzpatrick – Mary is a past board chair of the Northern Plains Resource Council who currently serves on Northern Plains' Organization and Finance Task Force and Clean Energy Task Force. She is active in air quality issues, facilitated corporate workshops, and served on several issue task forces. Mary is a retired mental health and addiction counselor who lives in Billings.
Mitch Wolgamott – Mitch is a native, Oregonian. Mitch has degrees in Zoology (BS OSU) and Biology (MS PSU). He has worked in both the private and public sectors retiring after serving as Eastern Region Administrator for the Oregon Department of Environmental Quality.  Mitch and his wife, artist Sue Orlaske, reside on a small woodlot on the eastern slope of the Blue Mountains near Summerville.  
Janet Marrs – Janet runs a small family farm, Almosta Farm at Cove, raising goats, honeybees, organic produce and fruit. She has a passion for food systems and teaching people how to grow their own food and offers a unique perspective on urban/rural life. Janet retired after 35 years in various scientific and management roles in the forest-products industry. She brings organizational leadership experience and a talent for leading teams and cultural change.
Stacy Page – Stacy is a recently retired regulator with the Wyoming Department of Environmental Quality with expertise is in coal mine permitting and reclamation. Stacy worked for over 20 years as a vegetation and reclamation specialist, regulating coal mine permitting and reclamation in Wyoming's Powder River Basin.  
Bob LeResche – Bob and his wife, Carol, own a ranch near Clearmont, Wyoming where they produce organic heirloom produce for a Community Supported Agriculture group. Bob is the current Chair of WORC.
Steve Allerton – Steve left the teaching profession in 2014 and has entered "refinement", a term he coined to use in place of "retirement." For Steve, refinement is about digging into those things he loves: family and three grandsons, music, backpacking/hiking with his wife and friends, and helping to create healthy soils in which to grow vegetables for the community. He is Chair of WCC and active in Mesa County's clean energy program.
Andreya Krieves – Andreya's professional background is in secondary education, having taught middle and high school in Colorado, Texas, and New York. She is active in community campaigns in Grand Junction, Colorado, recently serving as Chair for a local Community Center Campaign and as volunteer coordinator for a recent school bond campaign. She enjoys volunteering in her children's classrooms, and teaches yoga on the side. Andreya is an avid runner and skier and enjoys exploring the outdoors with her husband and two young boys.
Pat Smith – Pat holds an undergraduate degree in history and political science and a juris doctor degree from the University of Montana. His law practice specialized in Indian law where he represented Indian tribes for 31 years. In 2013, he was appointed by Montana Governor Steve Bullock to the Northwest Power and Conservation Council, and also to represent Montana on the Columbia River Treaty's Sovereign Review Team. He is an enrolled member of the Assiniboine Tribe on the Fort Peck Indian Reservation, where his family has operated a wheat farm.  He and his wife Michelle live near Missoula, Montana.
---
Never miss an opportunity to make the West a healthier and more sustainable place to call home.