A new report published by WORC finds that more than a third of all land mined for coal in the Western United States awaits cleanup after a half-century of intensive strip-mining, but a weakening coal industry may be incapable of cleaning it up.
The coal boom of the 1970s threatened land and livelihood in western states, prompting concerned residents to organize WORC's member organizations in Montana, Wyoming, and North Dakota. At the time, thousands of ranch families were under pressure from land-men and mineral speculators to sign surface or mineral agreements to make way for coal mining. Until 1977, there was no federal law requiring that coal companies reclaim the land they mine, and there were billions of dollars of cleanup work to be done on abandoned coal mines across the country. Now that coal no longer provides the cheapest fuel for electricity production we are entering the bust cycle, bringing new worries for local communities.
Over the last 40 years, the industry has used millions of tons of explosives and giant heavy machinery to scrape away earth to reach coal seams hundreds of feet deep. Those broad, deep strip mines cover hundreds of square miles of landscape. Cleaning them up will be no small feat.
There are members of our network living today who saw the rise of the western coal industry, and now, 40 years later, are watching its collapse.
Since 1977, federal law requires coal companies to "contemporaneously" reclaim land mined for coal as mining progresses. As a precaution, the law also requires that mining companies provide funds or guarantees to pay for cleanup, usually through reclamation bonds.
Although the intent of the law was clear when enacted, thousands of incremental regulatory decisions by dozens of states and many federal administrations have eroded the law's efficacy in the intervening 42 years. As the coal industry enters its twilight with a watered-down regulatory framework, WORC sought to evaluate the industry's progress toward full reclamation.
On January 9, 2020, WORC released a new report: "Planning for Coal's Decline." The report provides perhaps the first comprehensive public analysis of the status of coal mine cleanup in the West. It also evaluates the "end game" for coal mines and cleanup.
"Western coal-producing states face a looming dilemma, and the costs could be huge," said Bob LeResche, an editor of the report and Board Member of Powder River Basin Resource Council and the Western Organization of Resource Councils. "Today's coal industry is undercapitalized and at great financial risk from declining coal demand, and it is dangerously undiversified. But coal companies are responsible for cleanup of over 230 square miles of Western land and counting. Regulators in state and federal agencies must ensure the public is not stuck with paying for cleanup by forcing today's coal companies to reclaim every acre possible as soon as possible and provide reclamation bonds that are guaranteed to be available when they are needed most."
Given that the coal industry has been on rocky economic footing for years, surprisingly few western coal mines have closed. It is highly likely that more will close in the coming five years. Given the amounts of unreclaimed land at these mines, the stakes are high.
Findings
The report's major finding is that more than a third of all land mined since 1977 awaits cleanup despite a half-century of intensive strip-mining. That one-third of mined land adds up to 234 square miles or 150,000 acres and is estimated to cost $4 billion to reclaim to the high standards required for grazing, wildlife, and recreation. The weakening coal industry may be incapable of cleaning it up.
---
Never miss an opportunity to make the West even better: receive our action alerts.
---
Concerningly, the report finds that this area of unreclaimed land is growing. This is because strip mines generally mine shallow coal first, and then continue mining coal that is progressively deeper and farther from rail infrastructure. Accommodating safe mining of deeper coal requires wider pits. But that suggests that at the end of mine life, as a company stops mining coal, it will be responsible for reclaiming the most extensive and expensive area of the mine. And that's where the real problems begin.
"Western coal-producing states face a looming dilemma, and the costs could be huge. Today's coal industry is undercapitalized and at great financial risk from declining coal demand, and it is dangerously undiversified."
End Game
As mines age, there is a problem: unreclaimed area is generally not legally required to be reclaimed until mine closure, and coal mine closure happens just before coal sales revenue ends. Let's unpack that.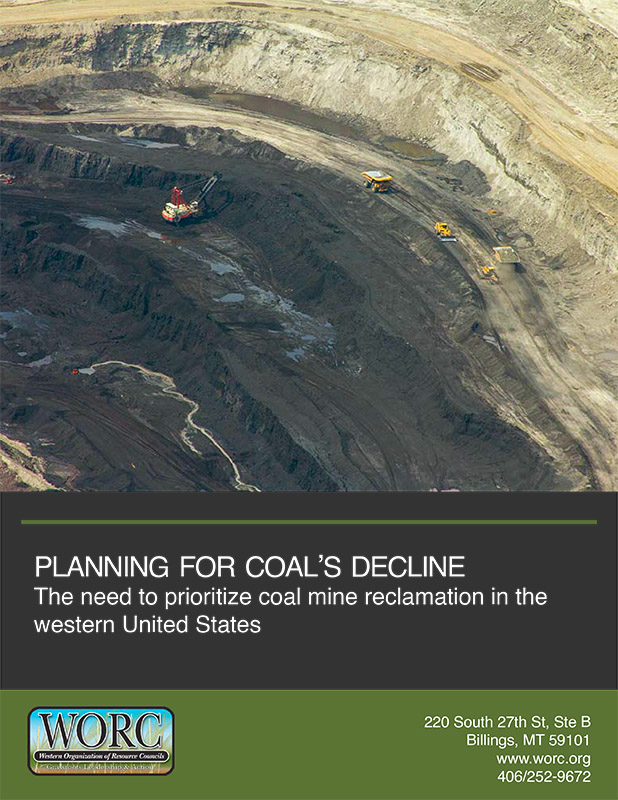 The 234 square miles of unreclaimed area consists of open pits and mine facilities, about half-and-half. Mine facilities include haul roads, water impoundments, monitoring sites, soil and overburden stockpiles, offices, storage silos, conveyor belts, railroad lines, maintenance shops, and more. Reclamation is not required by regulators of these facilities because they are required for continued mining.
The expense of decommissioning and demolition of mine facilities, and reclamation of open pits, will be incurred by coal companies after mining has ended. But after mining is done, coal sales revenues soon end. Coal companies are required to complete full cleanup of their mines, and by accepting mining permits they have agreed to do so. But without money from coal sales coming in, how will coal companies pay for full mine cleanup?
We doubt the coal industry will pay for full mine cleanup itself. Coal companies are dangerously undiversified — they rely almost solely on revenue from coal sales. More likely, individual companies will reach a threshold where reclamation expenditures overwhelm revenue. In the lead up to that point, coal companies are likely to file for bankruptcy. With a permanently down market for coal and inoperable mines, companies will be unable to sell to new owners. State or federal regulators will have to takeover cleanup, starting with seizing a company's reclamation bonds.

But there are problems at this stage, too. First, about $626 million of Western reclamation is backed only by self-bonds, which are what they sound like: an unenforceable "I.O.U." available to companies determined to be "too big to fail" that entails no collateral and is thus worthless in bankruptcy.
Second, states also accept collateral bonds, where a coal company puts up real property like a ranch as collateral with the state. It's very difficult to determine a realistic value for a large parcel of property with any certainty, since there are relatively few such parcels sold compared to a more liquid market like single-family residences.
Third, it is possible that regulators in some states are unprepared for managing huge cleanup projects. Although states would likely bid out projects to contractors, managing the projects will likely require significant staff time. Additionally, that staff time may not be paid for by the proceeds from reclamation bonds. Because so few western strip mines have closed to date, and because none of the coal companies responsible for reclamation have abandoned their obligations as of yet, it is not at all clear that all states are fully prepared to successfully manage huge reclamation projects.
Recommendations
In advance of major mine closures, the report recommends several actions to minimize the risks of underfunded and state-run mine cleanup, including the following:
State and federal policymakers should require detailed closure plans for mines and transparent disclosure of timing of mine closures and the financial resources available to pay for post-closure reclamation.
Federal and state regulators should press mining companies to reduce active mining areas and long-term facilities as much as possible and as early as possible prior to mine closure.
Regulators should eliminate self-bonding at both state and federal levels.
"Timely coal mine reclamation is a win-win for Western communities: it re-opens land for livestock and recreation, it creates good job opportunities, and it minimizes the huge risks to the public if a coal company goes broke," said Mark Fix, rancher and Northern Plains member living near Miles City, Mont., and irrigator from the Tongue River downstream of Montana's largest coal mine.
---
Learn more:
Who Will Pay to Clean Up Coal Strip Mines?
Blackjewel's Messy Bankruptcy in Wyoming is a Cautionary Tale For North Dakota
Don't Let Troubled Companies Leave Wyoming on the Hook for Coal Mine Cleanup
---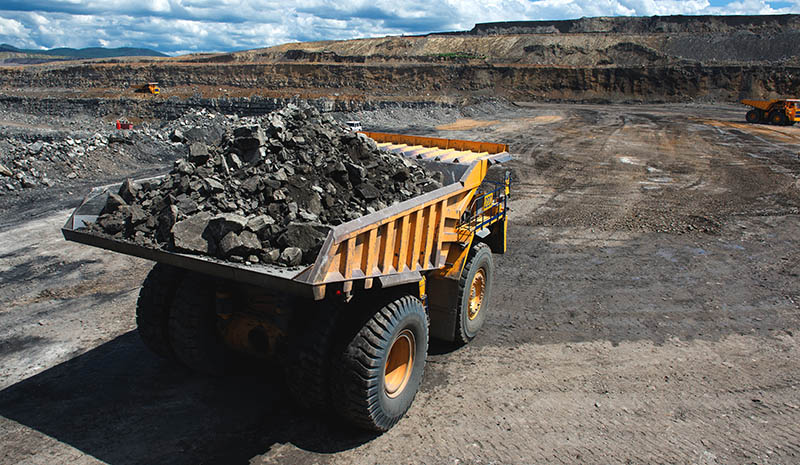 Help create a healthy and sustainable West. Support WORC today.