Voters in Canada's southwestern-most province went to the polls recently to elect a new government. In the final weeks, the race took an unexpected turn that may have major implications for U.S. coal exports. In a surprise move, incumbent Premier Christy Clark of the center-right Liberal Party announced new policy proposals that would wind down shipments of thermal coal through British Columbia.
For those who need a refresher, power plants burn "thermal" coal for electricity. Mines in Alberta and Montana export some of their production through through the ports of Westshore near Vancouver, B.C., and Ridley near Prince Rupert, B.C. British Columbia has its own coal mines that produce higher-quality "metallurgical" coal, a key ingredient in the steel-making process.
The British Columbia Premier's letter
On April 26, Clark sent a letter to the Prime Minister of Canada, Justin Trudeau, requesting that the Canadian federal government's port regulator take steps to halt thermal coal exports through ports in British Columbia. The letter appeared to be initially motivated by the recent increase in U.S. tariffs on B.C. softwood lumber exports. It vows action by British Columbia on thermal coal exports if Canada does not act.
As this issue took center stage in the news, however, Clark doubled down on her promise. Speaking to the business press, Clark said:
"I want to ban thermal coal. And if the federal government doesn't decide to do it – although I think they will agree with our request – we are going to impose a levy under our jurisdiction that is so onerous that there's no percentage in shipping thermal coal through British Columbia."
The specificity and strength of her proposal will make it hard to back away from. In fact, Liberal Party candidates running for re-election even adopted the position in late-breaking campaign ads.
The costs of coal exports
It's no surprise that politicians have picked up on the community impacts of coal-by-rail. WORC has long advocated for a full accounting of the costs to rail communities from coal shipments. We published a series of reports, including Heavy Traffic Ahead and the aptly-named sequel, Heavy Traffic Still Ahead, which calculated the implied increase in coal train traffic to accommodate coal export ambitions. We followed those reports with a booklet, The True Costs of Coal Exports, that summarizes the costs of increased coal train traffic to rail towns:
Coal trains can be more than a mile long, with 125 to 150 cars. As trains roll through rail towns, emergency first responders can be stopped at train crossings. These delays waste life-critical minutes during an emergency.
Toxic diesel exhaust from locomotives plus coal dust from open cars pose threats to cardiovascular health of residents.
Increased noise, pollution, vibrations, and safety concerns from increased coal exports would drop property values significantly.
Grain shipments would face delays due to due to heavy rail traffic and congestion from coal and oil shipments.
Rail town residents can mitigate some of these impacts with infrastructure upgrades, such as overpasses or underpasses. However, history shows that taxpayers must pay for it themselves, without significant contributions from rail companies.
How does B.C.'s policy proposal play out?
Until official election results are announced on May 31, there's no telling what will shake out. Provisional results have the Liberal Party with a slight edge over the center-left New Democratic Party (NDP). The Liberal Party did not achieve a majority, however. Although the NDP has not yet endorsed Christy Clark's proposal, the Green Party holds enough seats to push it over the top. As noted by E&E News, the head of the B.C. Green Party, Andrew Weaver, is a climate scientist.
It's too early to tell if the policy will hold, but if it does, the impacts for U.S. coal companies could be severe. Cloud Peak Energy plans to export more coal to Asia in 2017 than ever before, at an estimated 5 million tons. Exports from the company's Spring Creek Mine are only second to Signal Peak Energy's Bull Mountains mine, which announced sharp layoffs last year.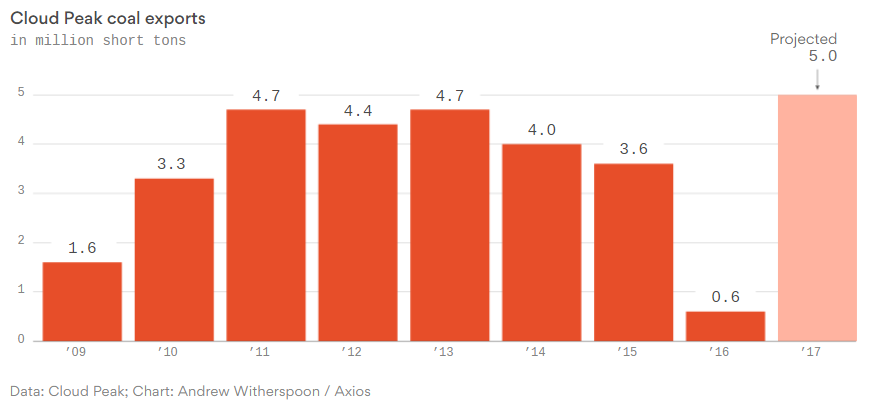 What's next for coal exports?
The myriad threats to the future of coal exports are not going away. In India, major coal-fired power plants have been shelved as unsubsidized prices for solar energy continue to drop like a stone. China is building record levels of renewable energy and recently suspended approval for new coal-fired power plants in 24 provinces.
U.S. coal exports do not predominantly sell into India and China, but demand from those countries drives international coal prices. According to Cloud Peak executives, South Korea is the main market for their export coal sales. Recent elections in that country have put Moon Jae-In into power, whose platform includes addressing air pollution. His administration has announced temporary closures for ten old coal-fired power plants with poor pollution controls, which comprise about 10% of the country's coal-fired generating capacity. This year, eight of those plants will shut down for the month of June. Next year, closures at all ten plants will last for four months starting in March. The president has declared that he will permanently close the ten plants before 2022, the end of his term. In the interim, the government will install particulate matter detectors at 11,000 schools to monitor air quality.
Is there any future?
These developments are not lost on financial analysts. On Cloud Peak's last quarterly investor call, an analyst asked Cloud Peak's CEO, Colin Marshall, "How important is the export avenue to potential future project developments of yours?"
Marshall responded by referring to the domestic market for coal from the Spring Creek mine rather than factors supporting exports. He said:
"I think if you actually go back over our comments over the last few years in terms of the development of the Spring Creek Complex, which is obviously our big [export] opportunity, we've been pointing out more and more that we see the domestic market for that coal, which we've been talking to customers about and developing. So obviously exports are important to us, […] I certainly am very optimistic that we will continue to be able to export […] and that there is also a domestic market for those development projects."
Actual growth in in Spring Creek's domestic market is difficult due to high sodium content in coal from Spring Creek. Marshall admitted as much to analysts in 2014:
"[T]here's a finite market for Spring Creek coal domestically. So we would not obviously be able to sell it [domestically]."
Faced with geologic, market, and political risks, the future for coal exports is sporadic at best and non-existent at worst. The long-term decline facing the coal industry in production and employment raises all sorts of questions about what will happen in coal-reliant communities and who is responsible for the human costs of the bust.