The latest story from Homegrown Stories illustrates how communities come together in times of need to create resiliency and homegrown prosperity.
Read more from our Homegrown Stories narrative project.
Beyond Grand Junction's stunning red rocks and winding rivers, there is a community of residents that is coming together to lend each other a hand through an unprecedented time. Grand Junction is located on Colorado's Western Slope, and like many cities across the world, it is seeing the impacts of COVID-19 amongst all of its citizens, some more severely than others.
Mutual Aid, at its core, is a community effort. These more informal organizations, run by everyday people and the working class, are better equipped to identify the main problems facing their communities by looking at the issues from the inside. Nonprofits and community organizations come together under the umbrella of Mutual Aid during times of crisis and have been instrumental in aiding the health and welfare of impacted communities throughout history. During this time of social distancing, it has been the social connectedness of communities that has helped thousands of people through this crisis.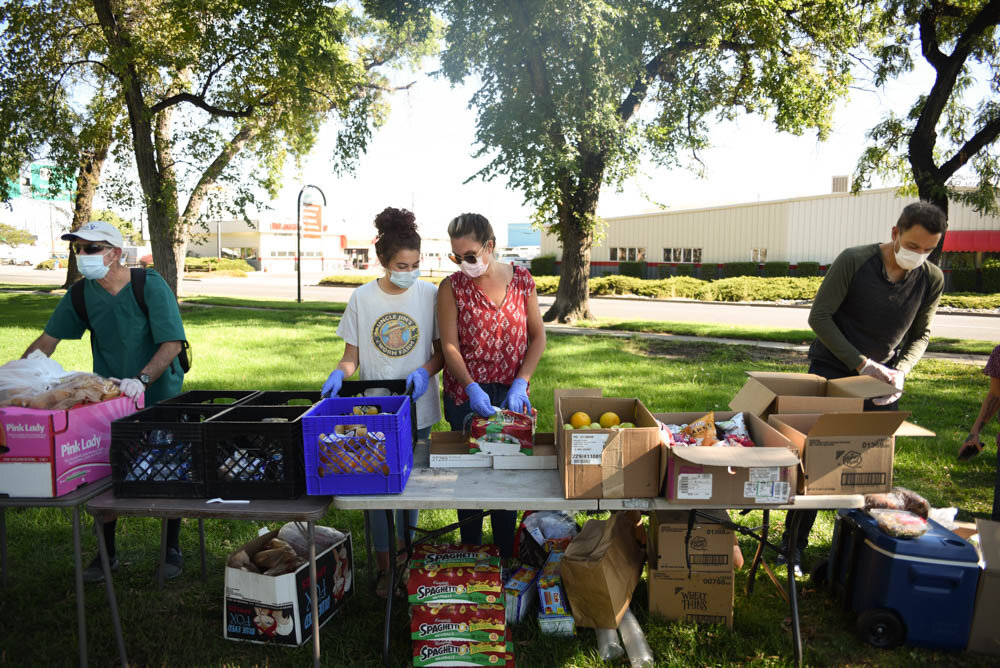 When COVID-19 hit Grand Junction, organizers quickly pooled their resources and knowledge to meet the needs of community members. In the same way that many of the nation's issues are interconnected, their solutions also had to converge. When the Grand Junction Mutual Aid formed to start hosting food distributions, it was met with the support of groups such as Solidarity Not Charity and RAW (Right and Wrong), a racial justice group.
The Mutual Aid Umbrella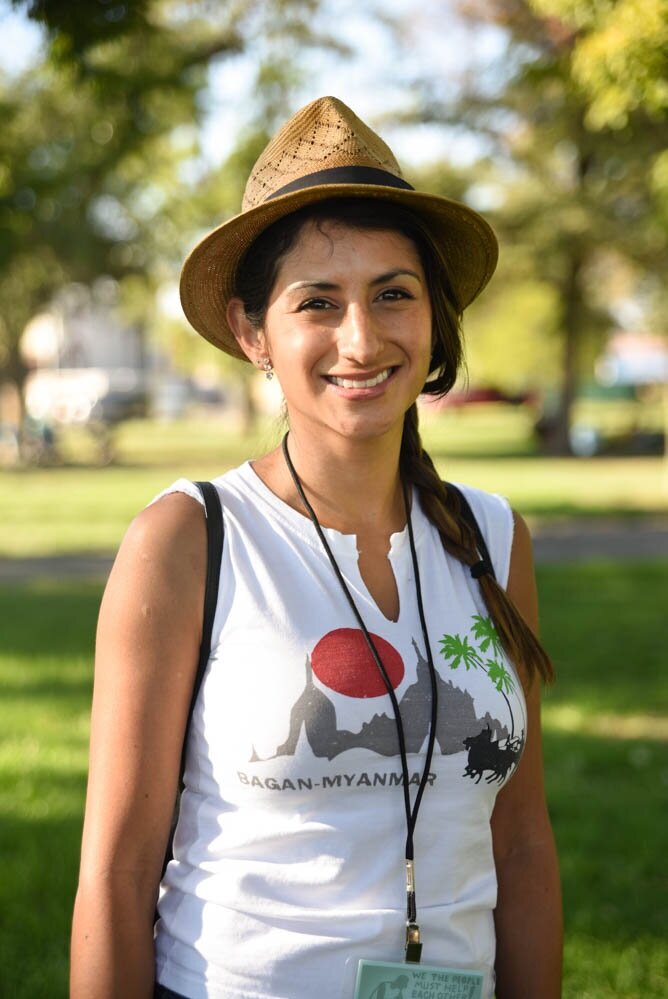 "I think Mutual Aid is our innate ability as humans to feel compassion for other people and to want to help," explained Stephania Vasconez. Stephania is originally from Ecuador but grew up in Grand Junction and has been volunteering for several years with different organizations. When the pandemic hit and grocery stores weren't able to supply restaurants, there was a surplus of produce that was being thrown away because food pantries in Grand Junction were full and soup kitchens didn't have space to store extra produce. Stephania knew that there was available food, and people who needed that food, but saw that there wasn't the coordination to make that exchange.
"I knew I couldn't let this happen. I know that there's people that are hungry and I couldn't let this just go to waste. So I just loaded up my car, and called around to try to figure out how to do this. And then somebody suggested the food distribution event that happens on Tuesdays," explained Stephania. The food distribution was working mostly with non-perishable foods donated from community members so they were happy to take in the produce from the food pantries. Stephania showed up and asked how she could help, "they just said jump in. And that was it. I started volunteering there on Tuesdays ever since."
If you attend the feeds on the weekend or the food distribution on Tuesdays, you will meet some true modern-day heroes. Several of the volunteers who have rolled up their sleeves without hesitation to set up and distribute food were once on the other side of the donation table and have been volunteering long before the Mutual Aid group formed. The food distributions feed approximately 81 individuals and 129 families each week. Houseless individuals make up a large portion of the people who receive help from Mutual Aid but there are also single parents, teachers, and anyone else who was left without support during the pandemic. The groups have partnered to provide more than just food security but also vaccinations for pets, haircuts, healthcare, and anything else people might need during these times.
Beyond Food Security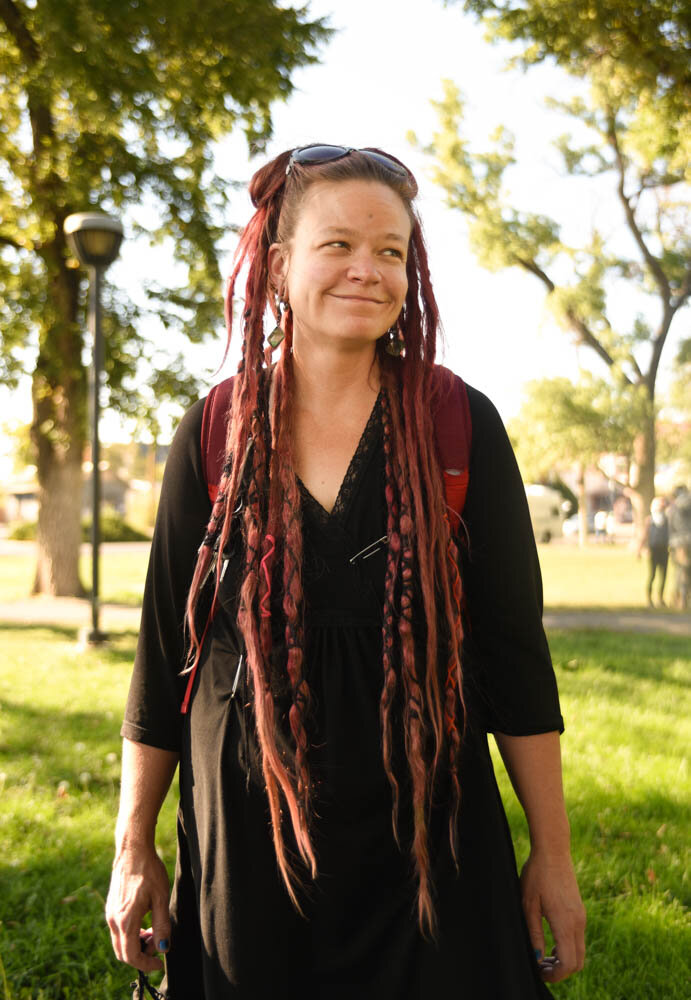 Pooka Campbell volunteers with Solidarity not Charity, a sector of Mutual Aid. She coordinates donations for harm reduction around Grand Junction, including installing porta potties, handwashing station sinks and sharps containers for needle disposal near camps utilized by the houseless community. "People are going to be using no matter what, it's about the safety of our community and preventing diseases from spreading," explained Pooka. These programs function because of the dedication of volunteers like Pooka who give their time every week to the cause.
Pooka learned from another volunteer how to give haircuts and now sets up a street barber shop during food distributions and community feeds. "You have to be willing to help people regardless of whether or not they are going to get out of the situation they are in," explained Pooka. Something as simple as a haircut gives people confidence and helps them feel better about themselves, but more than anything there is power that lies in the simple act of one individual caring for another. Pooka takes special care in the people that come to her for a haircut, listening to their stories and making sure they look the way they want, applying oil to dry scalps and scupting beards into desired shapes.
Personal Experience
Tom Gomez volunteers his time handing out food at the community feed and then heads over to Pooka's street barber station for a haircut. In the same way that some people show up at the distribution events to donate some products and leave with other resources, Mutual Aid encourages everyone, even those there to receive help, to also give, in whatever way they are able. Tom at the age of 9, was houseless and continued to be houseless for the majority of his adult life but has since found housing and employment. A quote from an essay written by Tom on his experience reads, "Any serious challenge to the existing order must address how people support themselves."
Tom believes that the houseless community is left out of the conversations surrounding houselessness and that in order to change society and truly help each other, the individuals experiencing it should be a part of the solution. "In our society, no social condition is more stigmatizing or disempowering than poverty," said Tom.
Racial Justice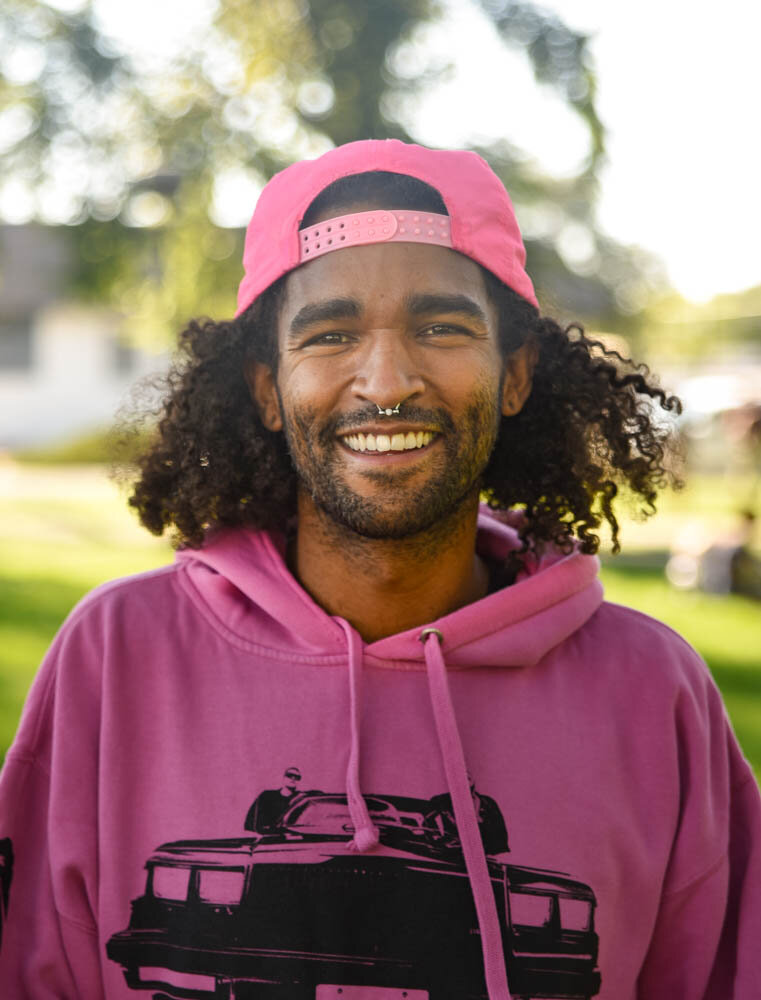 "You can't fight for racial justice on an empty belly," said David Hood on the topic of the interconnectedness of the current issues facing the U.S. David began giving aid to a racial justice group called Right and Wrong (RAW) by providing cold water throughout the summer during protests sparked by the murder of George Floyd and many other African Americans in the United States. Western Colorado Alliance was an early fiscal sponsor of RAW and is a continued supporter of racial justice and equity in western Colorado.
RAW sponsors one of the "Feeds" in a city park on the weekends and operates similarly to Mutual Aid by being a collaborative, community run organization. "There are members of marginalized communities and in every region or district and a lot of those people are the ones that are already at risk for being the most food insecure. We get a lot of that, just in general and I'm speaking as a member of one of those marginalized communities. Sometimes I also have to grab a box of produce, I feel like it is even my duty to grab a box of produce to keep me from going out and shopping at the grocery store because I'm also a low income, black person of color," explained David.
David was a sophomore in college, studying business, and dealing with housing and food insecurity to the point where they felt that dropping out of school and moving elsewhere for work was the best move for the future. David ended up living in a flophouse with 24 other people smack in the middle of Hollywood. David went out and found a list of resources to help the people living in that house but eventually, David began to feel uncomfortable with the landlord who was financially and sexually exploiting the tenants and left, leaving David houseless.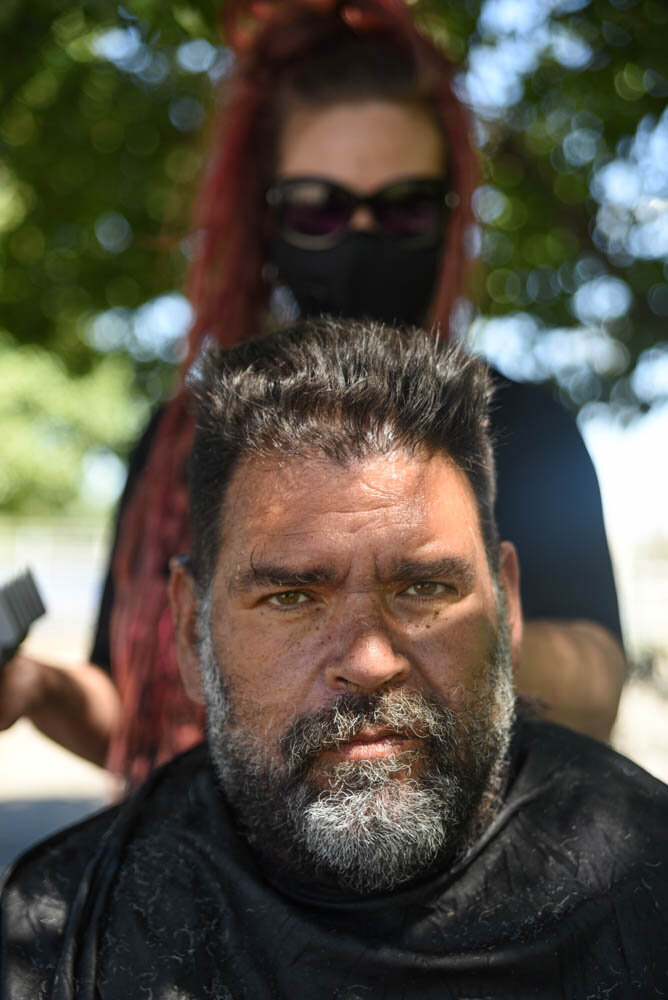 David's first few nights without housing showed a glimpse of what was available to the houseless community. There were charity organizations, David said, that often made people feel like they were lesser, and caused feelings of shame and hurt to those who were receiving. "I think it's really important when we're giving, to be mindful of how we're giving, because it's gonna affect the person who's receiving," said David. "There's a certain amount of shame that is involved with receiving charity but that's the difference with Mutual Aid, it's not about top down charity, it's about the community helping itself and helping each other within it," said David.
"Mutual Aid is more than physical nourishment, it's made up of other community members that we may have interacted with in other capacities and built relationships with. It's collaborative, perhaps even an exchange of resources. It's us working together, alongside members of our community from different backgrounds and realizing we're all humans with the same basic needs to survive, to have purpose and to be loved," explains Stephania on the core difference between charities and Mutual Aid.
In Grand Junction, individuals seeking assistance with food security have the option to show up to the distributions on Tuesdays or to have a box of food delivered to their homes. This option has allowed the volunteers to reach more people who might feel uncomfortable showing up to the distributions, but David says that it has also allowed volunteers to meet people where they are at, and help them address other issues they are facing. "I was able to talk to them about other problems that they're having, and talk to them about their safety practices. As far as their substance use goes but also, as you're probably aware of, women in the housesless community are regularly victims to sexual assault, and might need support with that. And they're a lot more likely to tell you about something like that if you are already assisting them with something else and showing that you're human," said David.
---
Learn more:
Western Native Voice Community Spotlight: Eric Johannessen
This is What Changing the Dominant Narrative on our Food Systems Looks Like.
Symbiotic Relationships are the Key to Understanding Rural Vitality
---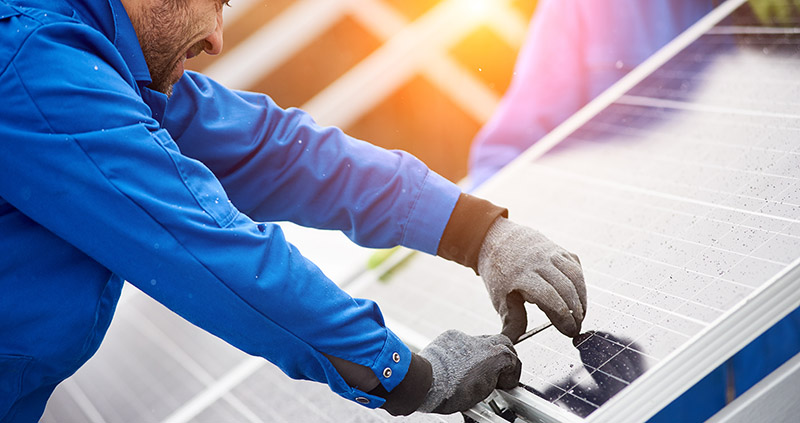 Yes, I want to help WORC elevate western voices and hold decision-makers accountable!