Two new reports show that insufficient bonding of federal oil and gas wells in economic crisis threatens thousands of orphaned wells.
Rusting equipment littering working ranches and farms; Failing well casings with the potential to leak and contaminate drinking water supplies; Potentially billions in taxpayer-funded cleanup required, growing by the day; and noxious weeds, contaminated soil, and soil erosion choking out productive land—this is the future facing oil and gas producing regions if agencies do not address the growing crisis of orphaned oil and gas wells.
A recently published examination of the bonding rules in eleven Western states finds that the federal Bureau of Land Management's (BLM) rules are weaker than any state's, with a minimum statewide bond requirement four times lower than the typical state requirement. While the federal rules are the weakest, rules vary from state to state and no state's rules fully protect against orphaned wells. In the midst of historically low oil prices, grossly inadequate bonding levels will allow already deeply indebted companies to declare bankruptcy and walk away from cleanup responsibilities en mass. Antiquated bonding rules, disregard of high-risk idle wells, and lack of dedicated reclamation funding have created a perfect storm of growing liability.
READ REPORT: Bonding Crisis: Orphaned Oil and Gas Wells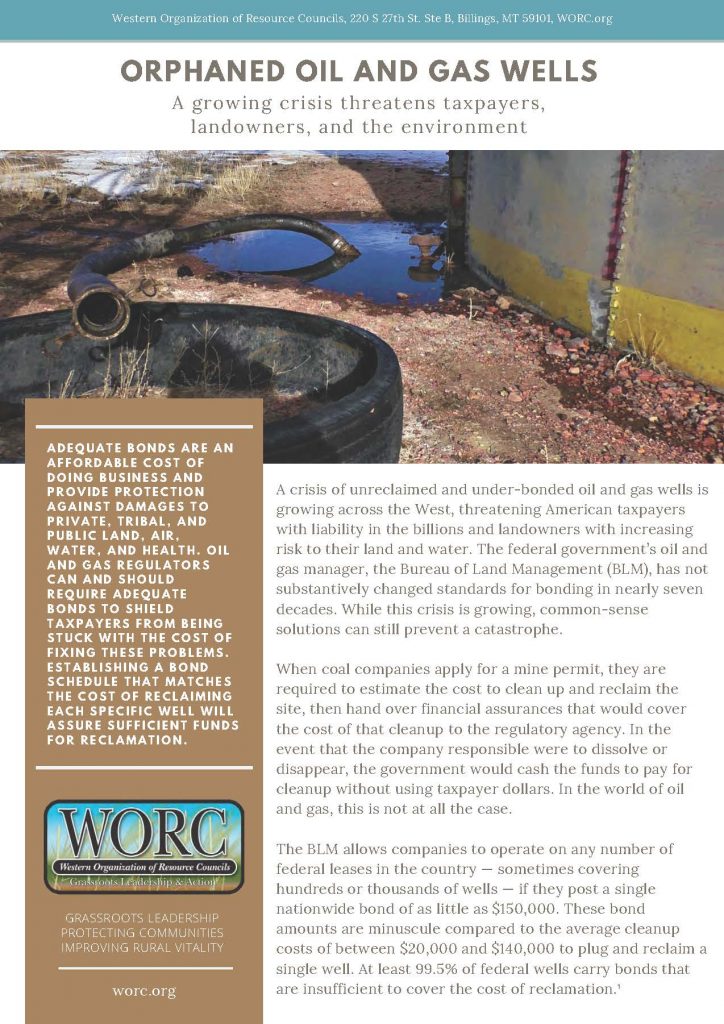 The biggest slide in oil prices in the past thirty years is causing pain across the oil and gas-producing areas of the West. From layoffs to bankruptcies to hemorrhaging state revenue streams, it seems few are untouched. One of the lasting consequences of historically low oil prices has been a spike in orphaned oil and gas wells, left behind by bankrupt oil and gas companies. Unlike the coal industry, reclamation bonds for oil and gas wells rarely cover the actual cost of reclamation, leaving taxpayers to fund the cleanup. This is particularly concerning for landowners and tribal members who live above federally managed minerals.
While both state and BLM bonding amounts need to be increased to reflect current reclamation costs, the federal government has further to go to protect our land and ensure that taxpayers are not liable. A recent Government Accountability Office report found that the average value of bonds held by the Bureau of Land Management (BLM) for oil and gas wells was $2,122 in 2018. The same report found that low-cost wells typically cost about $20,000 to reclaim, and high-cost wells typically cost about $145,000 to reclaim. The total liability for the nearly 100,000 federal wells across the country is likely several billion dollars.
READ REPORT: BLM Oil and Gas Bonding Rules Leave Lands a Mess and Taxpayers Responsible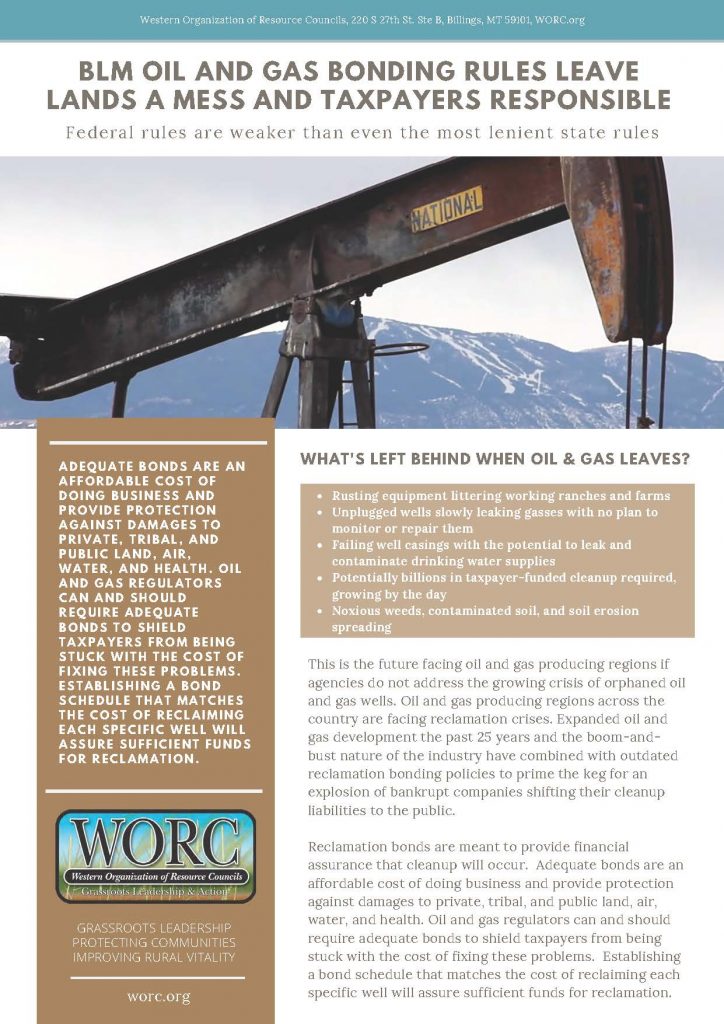 Adequate bonds are an affordable cost of doing business and provide protection against damages to private, tribal, and public land, air, water, and health. Oil and gas regulators can, and should, require adequate bonds to shield taxpayers from being stuck with the cost of fixing these problems. Establishing a bond schedule that matches the cost of reclaiming each specific well will assure sufficient funds for reclamation.
The report recommends several common-sense reforms to protect taxpayers, landowners, and the public from this growing crisis.
BLM should end blanket bonding and require bonds based on the actual cost of reclamation of each well, similar to federal and state requirements for coal mines.
Barring this, BLM should create a tiered bonding system that increases bond amounts as the number of wells increases, and as reclamation costs increase based on predictable factors, primarily well depth, location, and inflation.
BLM should require repeated mechanical integrity testing and an increased bond amount — or plugging — of individual wells which have been non-producing for 24 consecutive months.
The federal government should establish an orphaned well fee and create a reclamation fund, either based on recent GAO suggestions or modeled on Wyoming's fee and fund.
If BLM fails to act, Congress should pass legislation to update bonding requirements.
Read the full reports here:
Bonding Crisis: Orphaned Oil and Gas Wells
BLM Oil and Gas Bonding Rules Leave Lands a Mess and Taxpayers Responsible
---
Never miss an opportunity to make the West even better: receive our action alerts.
---
Learn more:
Federal Response to Oil and Gas Bonding Leading Toward an Orphaned Well Crisis
Newly Empowered Colorado Oil and Gas Conservation Commission Still Lacks the Power to Stop Well Abandonment
Fracking Cover-up Continues Groundwater Contamination Disaster in Pavillion, Wyoming
---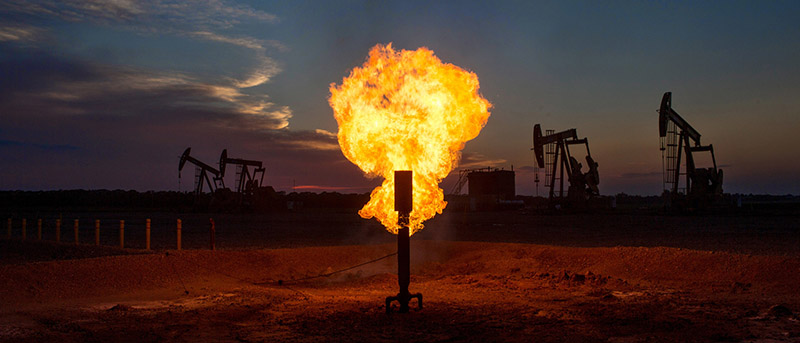 Help create a healthy and sustainable West. Support WORC today.